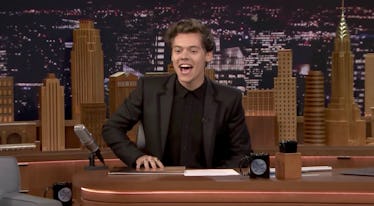 Harry Styles Has A Sitcom In The Works, So Yes, He Really Can Do Everything
NBC
Harry Styles has been a boy bander, a solo pop star, a big-budget movie star, and now he is taking on television. That's right: Harry Styles is getting his own TV show, and it is predicted to premiere on CBS next fall, per Deadline.
The new sitcom, which is still currently untitled, will be all about the nearly two-year period of Harry Styles' life when he secretly lived in the attic of his friend's home while simultaneously becoming one of the biggest music megastars in the world. Unfortunately, fans will not actually get to see Styles act in the show, but he is on board as an executive producer alongside his longtime friend Ben Winston, who is the show's creator and also the homeowner that Styles lived with for 20 months.
Although fans won't get to see Harry Styles appear on the show (at least, not yet), the new series will feature an exciting main cast. Buzzy sitcom veterans Damon Wayans Jr. (New Girl, Happy Endings) and Amber Stevens West (Greek, The Carmichael Show) will topline the series as Peter and Claire. Their characters are described as a thirty-something couple who are bored of their suburban lifestyle and begin reconnecting with their younger, hipper selves when a pop star moves in with them.
In the role that was inspired by Harry Styles, the show has cast Aussie actor Felix Mallard. While Mallard is most famous for starring in the last 4 years of the long-running Australian soap opera Neighbours, he is has also shown off his musical chops every so often on his Instagram, which is perfect for the part of a budding young pop star.
Rounding out the cast is three well-known comedic actors in unspecified roles: Tim Meadows will play Gerald, Stephnie Weir is Bonnie, and Chris Parnell is Wayne.
While the new series was obviously inspired by Harry Styles' unlikely friendship with Ben Winston, a director and The Late Late Show with James Corden producer who is 12 years Styles' senior, the announcement of the CBS deal was careful to point out that that the show will not be based on real life characters or experiences.
Ben Winston explained what living with Harry Styles for nearly two years was like in a Rolling Stone cover story last year. Here's what you need to know: Winston met Styles (and the rest of One Direction) for a meeting when he was a contestant on The X Factor back in 2010. Winston grew to be a friend and mentor to Styles, and after The X Factor ended and Styles was becoming a celebrity, he offered to help Styles move closer to London. Styles actually found a house he liked near the home of Winston and his wife, but he said that it needed about two weeks worth of renovation before he could move in. So, Winston and his wife offered Styles a mattress in their attic, and those two weeks actually turned into 20 months of one of the biggest pop stars in the world living in the attic of his older, married friend.
Those 20 months were when [One Direction] went from being on a reality show, X Factor, to being the biggest-selling artists in the world. That period of time, he was living with us in the most mundane suburban situation. No one ever found out, really. Even when we went out for a meal, it's such a sweet family neighborhood, no one dreamed it was actually him. But he made our house a home. And when he moved out, we were gutted.
It is definitely a quirky and unexpected story, practically begging to be turned into a zany sitcom! Many details about the new show are still cloudy, but it is predicted to premiere on CBS next fall.