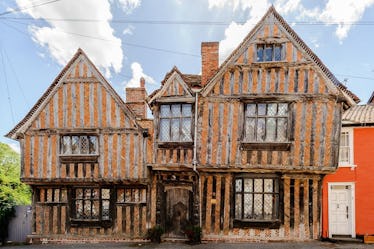 You Can Stay At Harry Potter's Childhood Home For The Most Magical Trip
Dear, fans of Harry Potter. If you've ever dreamed about receiving a letter from Hogwarts or living like the boy with the lightning bolt scar, then I have exciting news for you. Harry Potter's childhood home on Airbnb is a thing, and it's made for a magical vacation with your best friend or significant other.
Text your group chats, get your wand out of the back of your closet, and review the pronunciations of the most difficult spells. This is not a drill, and you're going to want to reserve your stay as soon as possible. You'll want to pack your suitcase with your red and yellow decorated robes, and snacks you can eat while you wait for the train at Platform 9 3/4.
If the books and movies have you taught anything, it's to be prepared for anything, including a chocolate frog hopping out of your hands or a visit from He Who Must Not Be Named. OK, Voldemort won't actually show up during your magical #vacay, but you will get to enjoy Harry Potter's childhood home — otherwise known as the De Vere House — in all its beauty.
Located in Lavenham, England, this home is actually a highly-rated and recommended former bed and breakfast, according to the Airbnb listing. It's now available for you and one other guest to stay at, and is only $142 per night, not including taxes and service fees. When you arrive, you'll instantly feel at home in the gorgeous and quaint medieval village that surrounds you.
The home is complete with two bedrooms with private bathrooms attached. Each bedroom has a TV and WiFi, if and when you want to relax or edit your pictures from a day of exploring around the village. In addition to these rooms, you'll have access to a private guest sitting room where you can get cozy by a fire or take a stroll in a nearby courtyard garden.
Now, in the true spirit of the Harry Potter world, you will be treated to a full English breakfast in the dining room every morning. When you sit down and begin to eat, it may feel very similar to the way the wizards of Hogwarts dined together in the Great Hall. I can't promise that an owl will show up with a package or piece of mail for you, but the host does note in the listing that she adores chatting about the history behind the village and offering up suggestions for travelers on what to do, see, and eat.
You won't be bored or miss out on any magical detail. You also won't feel like you're in your busy city anymore when you're chilling on a bright blue, vintage-looking couch or walking into the antique shops and tea rooms in the area. That's the true magic of the De Vere House, and after heading to Airbnb and booking your stay, you might want to re-read and re-watch the Harry Potter series in its entirety.