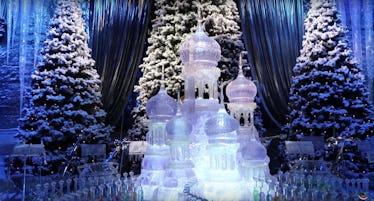 Your Christmas Just Got So Much More Magical Thanks To This Harry Potter-Themed Dinner
Before I finished watching The Prisoner Of Azkaban, going to Hogwarts looked like a ton of fun. If I could enroll, I'd join the Quidditch team in a heartbeat, party it up at the Three Broomsticks almost every night, and, most importantly, I would stuff my face at Christmas dinner. The Christmas dinners in the Great Hall were totally lit, and if you want to ogle at giant platters of chicken wings and pastries alongside Nearly Headless Nick under a sea of floating candles, Harry Potter's Hogwarts in the Snow is back at London's Warner Bros. studio tour.
If you happen to cross the pond anytime soon, London's Warner Bros. Studio Tour is always a site to see, and it's back for the 2018 holiday season, beginning on Nov. 17, per Travel + Leisure. Located just outside of London in Leavesden in Hertfordshire, England, you'll feel totally transported to the wizarding world. From what I've heard, you get to go behind-the-scenes of the Harry Potter sets, and you get to see real props from the movies. How cool is that? Anyway, the studio puts on this great Christmas celebration in the winter. According to the Warner Bros. website, you get to tour the set of the Great Hall as if it were Christmas in Hogwarts.
The stage is decked out with icicles, snow, and decorations fit for a Yule Ball. The entire hall is completely lined with Christmas trees, and every single one of the long dining tables is perfectly set for the holiday feast of your dreams. They're covered in platters of tasty looking props, like roast turkeys, ham, and puddings, and if you ask me, it sounds like a real sight to see. It'll be pretty hard to refrain from drooling over a plastic piece of meat.
According to the Warner Bros. website, the Hogwarts in the Snow experience also includes a glorious walk through an extremely-festive Gryffindor Common Room and Boys' Dormitory. Each are decked out with actual props from the movies, like handmade Christmas cards made by actual cast members. (!!!) Each of the fireplaces will also be ornately "lit" (using special effects, of course). Finally, if you're lucky, "The Fat Lady" painting might even sing a Christmas carol for you.
Just like Christmastime, Hogwarts in the Snow sadly won't last forever. It will start running on Saturday, Nov. 17, and it'll go through Sunday, Jan. 27, 2019. All tickets must be pre-booked on the booking website (aka no walk-ins), A standard adult ticket costs £41.00, which is about $54.29 USD. It's really not too shabby, considering how authentic it is.
If a trip to London isn't in the cards right now, make sure to check out Pottery Barn's new Harry Potter line to transform your house into a wizarding dream. You can snag anything from a Golden Snitch snack bowl to a Patronus duvet cover, and even a Hogwarts house apron. They're super classy, and whatever you pick will make your house straight-up magical.
Going to Hogwarts for the holidays has always been a dream of mine, and now it's finally a reality. All I want for Christmas is Warner Bros. Studio's Hogwarts In The Snow experience. TBH, I'll steal my parents' flying car if I have to.