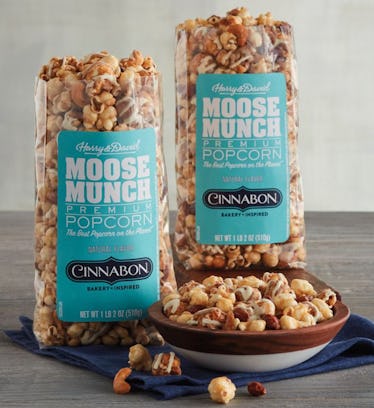 This Cinnamon Roll-Flavored Popcorn Is The Fall Treat You Need To Try
Harry & David
Attention popcorn, chocolate, cinnamon roll, and sugary-goodness lovers: Harry & David's Cinnabon Moose Munchhas dropped, so fire up your sweet tooth and start stocking up for the holidays because this match made in heaven will make the perfect gift for anyone on your list — or a perfect treat for you! With all the classic Moose Munch fixings, Cinnabon cinnamon, white chocolate, and cream cheese icing, you can expect to devour the entire bag within one sitting.
Harry & David is selling these treat in packs of two, so you can buy two pounds worth of Cinnabon Moose Munch for $30 and devour the sweet and salty treat yourself or with friends. But don't just take it from me, here's the official flavor description from the Harry & David Website:
This irresistible new variety is made with perfectly popped popcorn, deliciously creamy caramel, and Cinnabon® cinnamon, and is topped with white chocolate drizzles inspired by the flavors of Cinnabon® filing and Cinnabon® cream cheese icing. It's the perfect snack for enjoying at home or on any adventure when you're craving that sweet cinnamon roll flavor.
Is your mouth watering yet?
In case you're new to the Moose Munch world, Harry & David offers the treat in countless different flavors. The base is always made with popcorn, caramel, chocolate, and various types of nuts, but flavors like birthday cake, cinnamon maple pecan, salted caramel, Butterfinger, and lemon cream and macadamia nut ensure that there's something for everyone. Who knew popcorn could be so interesting? I need to try them all.
Not only does Moose Munch offer a diversity of flavors, but the snack comes packaged for different occasions, too. You can get the Moose Munch Premium Popcorn Trophy Gift for all the winners in your life, the I Moose You Moose Munch Gift Tin to show your love to someone special, and the Moose Munch Premium Popcorn Halloween Treats if you want trick-or-treaters to know you're the coolest house on the block. You can also find Moose Munch coffee, chocolate bars, chocolate bark, chocolate-covered strawberries, and cheesecake.
If you know a die-hard Moose Munch fan or if you can't choose from the countless flavor options, the Moose Munch Premium Popcorn club may be the perfect fit. Sign up to get a new flavor of Moose Munch delivered once a month for three, six, or 12 months and try flavors like Cherry Vanilla and Classic Caramel, Macadamia Nut and Butter Pecan, S'mores and Milk Chocolate, and Peanut Butter and Milk Chocolate. The popcorn club gives you monthly access to classic and new, limited-edition flavors so you can keep your Moose Munch supply fresh without even thinking about it!
You can find Cinnabon Moose Munch online or at Harry & David retailers across the United States. While the website indicates that the item is selling fast and availability may shift, Moose Munch tells Elite Daily that they don't have any plans to stop production, so expect the Cinnabon collaboration to be around for some time. Happy munching!