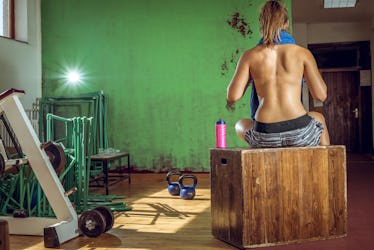 This NYC Gym Offers Naked Workout Classes & We're Not Sure How To Feel About It
Shutterstock
Everyone's had that low-key disturbing dream where you forget to wear pants to school or an important meeting, and you wake up feeling confused AF as to why your brain wants you to be nude in public. Well, 2018 is about to turn your weird dreams into a reality: Starting Jan. 5, Hanson Fitness' naked workout classes in New York City will encourage you to enjoy a killer sweat sesh in nothing other than your birthday suit, and TBH, I just do not know how to feel about it.
Just when you think NYC has exhausted all of the limits of "too far," the forward-thinking and overly ambitious city surprises you yet again by suggesting you strip down to your bare ass and crank out some burpees — in public.
Located in Soho, the brand new workout classes promise to challenge your entire body. Rest assured, they do offer separate workout classes for women, men, and co-ed groups. Celebrity trainer Harry Hanson will lead the personal training sessions, which does make the whole thing pretty freaking tempting, considering he's trained with some of our favorite celebs, like Rihanna and Sandra Bullock, to name a couple.
If you're totally over having to do an aggressive amount of sweaty, smelly laundry after your workouts, I suppose these classes solve that problem?
New York Daily News reports that, according to the company's press release, their goal is to help you "feel good naked" as you move through the workouts in nothing but your birthday suit.
If you're feeling skeptical about all this, let's talk about some of the general, purported benefits of working out in the nude: According To New York Daily News, Hanson Fitness says that working out sans your favorite Lululemon yoga pants keeps your entire body comfortably cool, releases more endorphins than clothed sweat sessions do, and heightens your bodily awareness in ways that conventional exercise can't.
But let's be real here: Some people just can't get behind the idea of freeing the nip (and every other body part) in a room full of complete strangers.
With those concerns in mind, the Soho-based studio is offering the alternative of throwing on some nude-colored underwear, or even booking a one-on-one training session.
That way, you're either a) not actually naked or b) naked, but only in front of one stranger instead of several. I'm not sure either of these options are necessarily comforting, but I'm opening up more to the idea, maybe?
Now, if the idea of doing demanding bodyweight exercises without your trusty pair of Nikes sounds like a recipe for disaster (I personally think that I would slip and fall flat on my bare ass), Hanson Fitness is way ahead of you. Hanson told the New York Post that the studio is all about safety and keeping its nakey clients injury-free:
Our trainers are qualified to ensure that all workouts are carried out safely and that our clients perform the exercises in the correct manner so not to hurt themselves.
Or, the studio said, you're more than welcome to just wear your sneakers if you're not about that barefoot exercise life, according to The Post.
The expansive studio also features large windows, which means rays of sunshine will keep your naked body warm throughout your workout.
But that sunshine will also apparently help you reap even more benefits from this unique workout class. A spokeswoman from Hanson Fitness told Business Insider,
Sunlight on the exposed skin will lead to the body producing vitamin D which aids in bone and muscle health.
Vitamin D also leads to serotonin production, the hormone responsible for our mood regulation.
Ugh, I don't know, man. I think I'm just going to wait until the temperatures go up again outside so I can get my dose of vitamin D the old-fashioned way.
But hey, if working out in the nude sounds like your thing, by all means, go forth and strip, my friends. Happy Nude Year, fam!