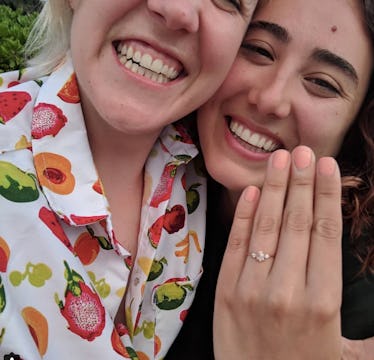 YouTuber Hannah Hart's Proposal Was So Unbelievably Romantic, It Should Be A Movie
If you are a living, breathing A-lister who also happens to be even somewhat in love this summer, it's time to pop the question. I mean, first Ariana Grande and Pete Davidson fall in love and seemingly instantly decide to get engaged. Then, Hailey Baldwin and Justin Bieber follow suit by doing essentially the same exact thing. Now, even cyber celebs are getting in on the trend. For example, YouTube star Hannah Hart is engaged to Ella Mielniczenko, an executive producer at BuzzFeed.
The internet power couple are different from other celeb couples getting engaged this summer in that they've actually been together a while. Cosmopolitan.com reports rumors of their relationship first started swirling around back in 2016 when they spent Thanksgiving together.
Now, the couple is totally public about their relationship and settled with each other in what can only be described, from my standpoint, as pure bliss. The couple is so settled that they actually already live together in L.A and share a cat. I mean, you know it's serious when you share a living creature together. In fact, they saw it as so serious that they'd already discussed getting engaged this year.
"We knew we wanted to get engaged in 2018, but I told Ella that I really wanted to be the one to pop the question," Hart tells Cosmopolitan.com. "Ella has been the brave one in our relationship, and so I really wanted to show her how much she means to me by being brave in return. I bought the ring in March and hid it in our apartment behind my board games, a place I knew she would never look."
That being said, the fact that they had previously discussed the upcoming engagement didn't mean that Mielniczenko wasn't totally surprised when it actually happened.
Hart decided to pull the trigger on the proposal when the two were vacationing in Hawaii, a place that has a lot of sentimental value for the couple. "There was a moment in 2016 where we took a quick trip to Hawaii for a weekend and we sat on the beach looking at the stars and talking about everything," Hart shares with Cosmopolitan.com. "I knew that then that this was the beginning of something special." That trip was also the time they first said "I love you."
This time, Hart was ready to make things official. Cosmopolitan.com reports she "hid the ring in a sand castle bucket under two mini bottles of champagne and a souvenir shot glass."
"Ella had no idea it was coming! I suggested we watch the sunset at the beach and toast with tiny champagne to a great vacation," Hart tells the publication. "She just assumed I was being my normal, romantic self, instead I was planning our engagement."
Hart shared the news with fans via Instagram, where she posted a series of adorable post-engagement selfies along with the caption:
#enGAYged There are many wonderful details involved and I will share them all, but right now I just really needed to tell you guys and didn't want to wait anymore. We will do a whole video about it and tell the whole story. But right now is just to share the exciting news!!! We are gonna get married, babyyyy!!
For those of you wondering what's next for the couple, don't you worry! Hart plans on keeping you fully in the loop.
"There aren't enough positive, or accurate, representations of queer relationships in media. Let alone queer 'celebs!'" Hart tells Cosmopolitan. "I am excited to share every stage of this journey to show everyone that you can be who you are, love who you love, and celebration with the best of them! Ella always says 'Don't Save Champagne,' and I think our wedding will be a testament to that."
A-freaking-men to that.
Check out the entire Gen Why series and other videos on Facebook and the Bustle app across Apple TV, Roku, and Amazon Fire TV.
Check out the "Best of Elite Daily" stream in the Bustle App for more stories just like this!