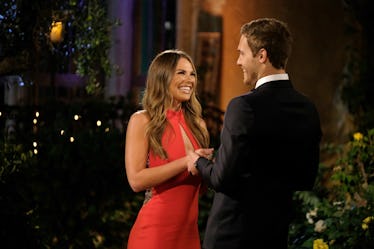 You Need To See Hannah B.'s Tweets About Her 'Bachelor' Convo With Pete
John Fleenor/Walt Disney Television/Getty Images
Um, if you're a Bachelor Nation fan, stop what you're doing and read Hannah Brown's tweets about The Bachelor premiere, which aired on Jan. 6. ICYMI: The new season of The Bachelor features none other than Peter Weber, one of the top three contestants on Brown's season of The Bachelorette who famously admitted to having sex with her in a windmill during their fantasy suite date in Crete, Greece. Despite the fact that she sent him home after the fantasy suite, it appears as though Brown is still harboring some feelings for Weber — and those feelings made their way to the surface during her surprise appearance on his premiere episode.
While she originally just came on the show to return the wings he got her as a friendly gesture, her true feelings came pouring out when the two had a private conversation later in the episode. It took place after Brown hosted a group date for Weber's contestants. She seemed fine chatting with the ladies during the date, but her emotions started creeping in when she had some solo time with him backstage. "When I walked out there, I didn't know that there would be that much of a spark," she told Weber. "I know that there's still something there." When Weber responded by asking if she regretted sending him home during her season, she admitted that she questions her decision "all the time."
Weber admitted he still has feelings for her as well, and wound up asking Brown to join his house — a question that wasn't exactly answered by the end of the episode. Needless to say, having such an intensely intimate conversation played for the world to see on television must be petrifying, and Brown wasn't shy about letting her followers know how nervous she was when the show aired. "Spoiler alerts: This is going to be very freaking awkward. @BachelorABC," she wrote in her first tweet of the night.
Then, she gave a shoutout to their famed windmill tryst, writing, "I just want to go hide under the windmill right now. #TheBachelor."
Finally, she recapped what the entire experience was like from her point of view. "So that was not a blast at all," she wrote. "It was truly the hardest day — a day I was not looking forward to reliving. But thank you to those of you who have been so sweet and supportive tonight. #thebachelor"
If you didn't get a chance to watch the intense exchange Brown is referring to, give it a watch here:
Clearly it was a lot, and only time will tell how Hannah and Peter's story really ends, but one's thing's for sure: It's already the most dramatic Bachelor premiere yet.