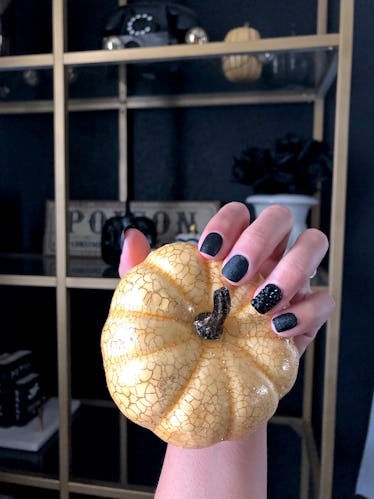 This Brand Will Give You The Easiest, Spookiest Halloween Manicure In No Time
Stephanie Montes
I'm an admirer of nail art, but I never wear it. Honestly, I don't have the patience to sit through an appointment that long or the skill to create a look on myself, but worst of all, my nails reject all kinds of polish. I'd be lucky to get through a shower with a regular mani, and not even gel polish lasts on me — I once had my gels lift at the edges after just two days. Naturally, having all that hard work go to waste in under a week seems unfathomable. But trust me, I still drool over Halloween nail art nonetheless.
I've talked about my nail polish qualms before, and it seems my only solution for a presentable manicure is ye old press-on nails. But before you go having flashbacks of middle-school sleepovers complete with you waking up to plastic nails stuck in your hair by morning, these are not your childhood peel and sticks. These days, press-on nails look more natural, stay put until you remove them (I've had a single pair of press-ons last me a full two weeks on more than one occasion), and come in a variety of artsy designs. Even Blake Lively wore a $5 set to the Met Gala, and nobody knew the difference.
And best of all, they take seconds to apply. (I've stuck some nude ones on minutes before a job interview before.) All you do is size them up to each of your fingers — they almost never require additional shaping to fit your nail bed — and stick them on. Some come with a pre-glued backing that peels off like a sticker, and others come with a small bottle of glue, but neither take much time at all.
Imagine how pumped I was to open a package from Salon Perfect packed with press-on nails in the most fabulous Halloween nail art designs I've ever seen. The box came with all six of their ghoulish designs.
This spooky collection is chic AF with its black and white designs, smoke prints, spider web motifs, and crystal embellishments.
If color is your jam, this press-on collection incorporates classic red into a manicure fit for a vampire.
Nothing screams Halloween more than an orange and black color scheme, but this glitter combination feels much more glam than traditional.
Get ready to turn heads with these bloody nails. With a pointed shape, matte black base, glossy blood drip effect, and rhinestone accent, you'll want to wear these all year round.
If you're going for something less literal, equally spooky and just as glam, these black and red glitter nails are the way to go.
These are the ones I took for a spin. For being a black-on-black creation, these nails have a ton of dimension. The accent nail is decorated with a cluster of shiny black rhinestones, but the others are just as eye catching with glittery finish.
Straight out of the box, the nails had a pointed shape to them, but since I keep my nails short and squared, I couldn't pull them off. It was an easy fix though. I trimmed them with nail clippers and filed them to shape with the included nail file. The entire process took no more than 20 minutes, and my nails have never looked more Halloween ready.
If you're still trying to get your nails spooky and studded, know that Salon Perfect's Halloween press-ons are available exclusively at Walmart, per the brand's website. You can swing by on your way home from work today, and before you know it, you'll have a manic Halloween mani before dusk.