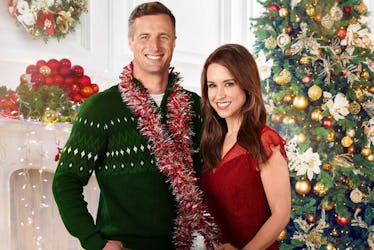 Hallmark's Christmas Day 2018 Movie Schedule Will Keep You Busy For The Entire Day
Hallmark Channel
Some businesses wait all year to do the bulk of their business during the holiday season. This goes the same for some TV channels too. While Hallmark has original movies year round (and also the Kitten Bowl every January), it saves the real firepower for the Christmas season. This year, the channel has outdone themselves with no less than 36 brand new Christmas themed films. And if that weren't enough, Hallmark's Christmas Day 2018 movie schedule has a line up of no less than 13 of those original movies, all of which are new for 2018.
Hallmark has actually been at it since before Halloween came around, which is the earliest of all the channel who dedicate the last two months to holiday fare. (Most make like Target and go straight from pumpkins to Christmas trees without stopping for turkey.) The first of the new for 2018 movies, Christmas at Pemberley Manor, aired all the way back on Oct. 27. Hallmark has been premiering new films ever since.
So for those looking for something a little more romantic than endless reruns of A Christmas Story, here are the trailers and the synopsis for all 13 films airing on Dec. 25, 2018.