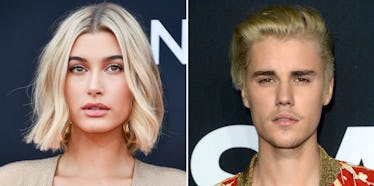 Hailey Baldwin Trolled Justin Bieber About Their Own Engagement & It's So Funny
Frazer Harrison/Matt Winkelmeyer/Getty Images
Well, guys, it looks like this Justin Bieber and Hailey Baldwin engagement is the real deal. Bieber proposed to Baldwin on July 7 and TMZ broke the news of their engagement on July 8, but neither of them had initially confirmed or denied the rumors. Then, on Monday, July 9, Bieber and Baldwin both confirmed the news and here we are in another celebrity engagement whirlwind. Now that the news is out, they're having some fun on social media because, well, why not? The 21-year-old model poked some fun at her fiancé on Instagram last night, and Hailey Baldwin's Instagram comment trolling Justin Bieber is so hilarious.
Baldwin's troll came via a reply to an Instagram comment that encouraged the Biebs to grow out his facial hair for the wedding. Lots of Bieber fans either love his facial hair or desperately want him to nix it, and it seems like Baldwin is of the latter. Ryan Good, who's Bieber's road manager but has also been labeled his "swagger coach" in the past (LOL, what?), commented, "Also. Grow the mustache back for the wedding." Baldwin commented back, "don't u dare give him that idea you lunatic." OK! So we know where she stands! Alfredo Flores (a director/editor who has worked with the Biebs a lot in the past, as well as Ariana Grande) chimed in and said, "Sorry @ryangood24 — no mustache for the wedding."
Fans can't get over the comment.
OK, so the Biebs is going to be clean shaven on his wedding day. Got it. Cool.
His (long AF but still romantic) caption read,
Was gonna wait a while to say anything but word travels fast, listen plain and simple Hailey I am soooo in love with everything about you! So committed to spending my life getting to know every single part of you loving you patiently and kindLY. I promise to lead our family with honor and integrity letting Jesus through his Holy Spirit guide us in everything we do and every decision we make. My heart is COMPLETELY and FULLY YOURS and I will ALWAYS put you first! You are the love of my life Hailey Baldwin and I wouldn't want to spend it with anybody else.
He continued,
You make me so much better and we compliment eachother so well!! Can't wait for the best season of life yet!. It's funny because now with you everything seems to make sense! The thing I am most excited for is that my little brother and sister get to see another healthy stable marriage and look for the same!!! Gods timing really is literally perfect, we got engaged on the seventh day of the seventh month, the number seven is the number of spiritual perfection, it's true GOOGLE IT! Isn't that nuts? By the way I didn't plan that, anyways My goodness does feel good to have our future secured! WERE GONNA BE BETTER AT 70 BABY HERE WE GO! "He who finds a wife finds a good thing and obtains FAVOR from the Lord!" This is the year of favor!!!!
The tweet said, "Not sure what I did in life to deserve such happiness but I am so utterly grateful to God for giving me such an incredible person to share my life with! No words could ever express my gratitude."
Love is in the air, fam! And you know what else is in the air? The promise of a clean shaven Justin Bieber. Bless.