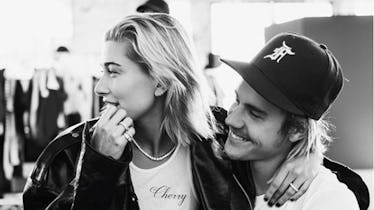 This Is Definitive Proof That Hailey Baldwin Predicted Her Engagement To Justin Bieber
Instagram/Justin Bieber
Did Hailey Baldwin predict her engagement to Justin Bieber? Well, according to a newly-unearthed Instagram comment, she did! Back in early June, Baldwin left a comment on one of Scooter Braun's Instagram posts (who just happens to be Bieber's manager) and basically asked him to find her a husband. And very shortly after, she actually found one. Hailey Baldwin's Instagram comment about finding a husband was posted days before she and Bieber jetted off to Miami for a romantic weekend.
"Scoot find me a husband," Baldwin commented on the photo.
And barely a month later, her wish was granted! Baldwin posted the comment on or around June 7, which was just days before she and Bieber were seen together in public for the first time in years. Bieber confirmed his engagement to Baldwin on July 9 with an Instagram post that read in part:
Was gonna wait a while to say anything but word travels fast, listen plain and simple Hailey I am soooo in love with everything about you! So committed to spending my life getting to know every single part of you loving you patiently and kindLY. I promise to lead our family with honor and integrity letting Jesus through his Holy Spirit guide us in everything we do and every decision we make. My heart is COMPLETELY and FULLY YOURS and I will ALWAYS put you first!
So, it kind of sounds like Baldwin has psychic abilities. Or maybe she and the Biebs were already so close in early June that she knew a proposal was about to come her way. In any case, it's a really weird coincidence. Clearly, Baldwin trusts her gut feelings about where her life is going. She basically wished that gargantuan engagement ring into existence, which is amazing.
Here's a look at the comment Baldwin left back in June:
As previously mentioned, Baldwin left her comment on Scooter Braun's Instagram account. For those of you who don't know, Braun is also Ariana Grande's manager. And as you've probably heard by now, Grande became engaged to Pete Davidson after just a month of dating. So, obviously Braun has some magical matchmaking powers that Baldwin was trying to tap into. It seems like it worked out well for her!
Baldwin and Bieber are reportedly planning their wedding at the moment. In a July 19 report from Entertainment Tonight, a source revealed that the newly engaged couple is planning a small, intimate wedding:
Justin and Hailey have been telling friends they want to have a smaller wedding, with close family and friends, nothing too over the top. The couple has discussed where they would have their wedding, in either Canada or somewhere in the States (NY or LA). They've thrown around the idea of having it in possibly both, but it's still the early stages of planning. Justin and Hailey are trying to enjoy the excitement of engagement before fully diving into wedding planning.
Things are definitely moving fast for those two. Can't wait to see how their wedding turns out!