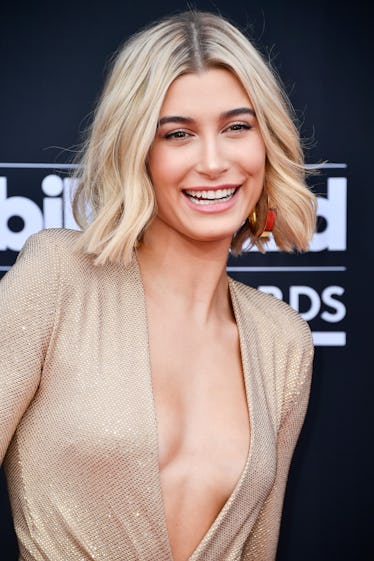 Hailey Baldwin Just Revealed Her Celebrity Crush & It's Not Justin Bieber Or Shawn Mendes
Frazer Harrison/Getty Images Entertainment/Getty Images
Well, color me confused. Hailey Baldwin has been making some waves in the media with recent developments in her love life. First, it was Shawn Mendes, then it was Justin Bieber, and now... well, now, she's talking about setting her sights on an entirely different celeb. But Hailey Baldwin's celebrity crush isn't someone you'd initially expect, mainly because he's about nearly double her age and, oh yeah, married.
But before we start making our way onto the speculation train, let's all just chill out for a moment, because clearly, it was all in good fun. The 21-year-old model was featured on LOVE magazine's #LOVEFM radio call-in show via Instagram Tuesday, where she wore her hair in a full-on '80s crimp, a power-suit blazer, and the most fabulously oversized glasses the world has ever seen. She's absolutely having fun with this interview, twirling the chord on an ancient house phone, and playing with her crimped locks.
When asked who her celebrity crush is, she said, "My celebrity crush, has to be... Ryan Gosling!"
Girl, same.
But in case you didn't know (or are desperately trying to forget), Ryan Gosling is married to actress Eva Mendes and they have two children together, so I'm *thinking* that he's pretty unattainable — for Hailey Baldwin and the rest of the female species. Sorry, ladies.
The reporter then asked Baldwin, "Ooh, what do you think you're going to be doing with him? He's married!"
"Umm, I don't know, maybe like, just sit around," Baldwin jokingly responded. "Just stare into each other's eyes and fall in love."
I actually can't argue with this statement at all. I mean:
I'd literally want to do the exact same thing with Ryan Gosling. Hi, gorgeous!
But we, of course, know that Hailey Baldwin was just talking about a crush and not someone she's actually setting out to date (I hope). You can watch the interview and obsess over Baldwin's iconic ~lewk~ in the clip below:
And for those of you who think that Hailey Baldwin and Shawn Mendes might still have a shot at dating, I'm here to burst your bubble. I hate to be the bearer of bad news, but Hailey Baldwin deleted all the photos of Shawn Mendes from her Instagram, sparking many fans to wonder whether this is confirmation that they did in fact date at some point (which both vehemently deny), and if Justin Bieber was the mastermind behind Baldwin deleting the photos (since now Baldwin and Bieber seem to be stirring up some romance).
Justin Bieber and Hailey Baldwin were spotted kissing on Saturday, June 16, during a trip to New York City, so fans are putting two and two together and assuming that Bieber's jealousy is what caused Baldwin to crop out and delete all photos of Mendes from her Insta. While neither Bieber nor Baldwin has confirmed that they are dating, Baldwin did open up in her interview with The Times UK in May, where she talked about how it took "quite some time" for her and Bieber to get back in a good place together. She said,
Justin and I were friends for a long time. I met him when I was really young and he was one of my best friends. Everybody knows that at a certain point in time that turned into something else, but that just happens when you're 18, 19. It was what it was. We went through a long period of time when we weren't friends. We didn't speak for quite some time and there was a lot of weirdness that went on. We've moved past that.
I'm pretty much here for anything that Hailey Baldwin wants to do. Do some heavy Instagram re-organizing? OK, cool. Date Justin Bieber? Sure, why not? Stare longingly into Ryan Gosling's eyes? Honey, if you can do it, do it. I'll just be here living vicariously through you.