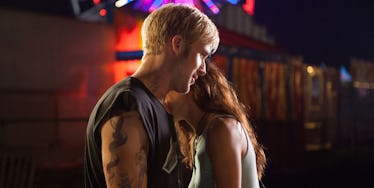 Ryan Gosling And Eva Mendes Secretly Got Married, So Love Is Still Alive
REX/Shutterstock
The other day, we heard the heartbreaking news Angelina Jolie filed for divorce from her husband, Brad Pitt.
If marriage couldn't work for Hollywood's "It" couple, how can any of us really find true love?
I mean, I can't even get a Tinder date at this point. Brangelina's split makes me want to adopt 12 cats and live in my parents' basement forever.
You think I'm joking, but I'm serious.
If your dreams of love have been crushed as well, then hang in there, pal, there's hope.
Yes, there is a light at the end of the dark, dark tunnel. Apparently another Hollywood couple secretly got married, so love is still alive.
Ryan Gosling and Eva Mendes have been together for five beautiful years, but it wasn't until this year they decided to tie the knot.
AHHHHH. HOW COULD WE NOT KNOW ABOUT THIS?! When was it?! Where? And are there wedding photos?!
I just have so many questions.
A source told Us Weekly,
Eva and Ryan have always felt like a married couple. They are infatuated with each other.
I am going to cry tears of joy -- holy shit this is so beautiful.
Ryan and Eva have two daughters, Esmeralda and Amada, and they "couldn't be happier."
Remember when they also secretly had a baby and no one knew about it? That was a fun time.
The two carefully hid the birth of their second child, and the world didn't find out until this past May.
I guess the couple isn't a fan of being in the spotlight. IT MAKES YOU THINK ABOUT WHAT ELSE THEY'RE HIDING FROM US.
Ryan and Eva, I'll let this one slide. But if you guys have baby number three on the way can you let me know???
I'd love to be a babysitter, that's all I'm saying.
Citations: Ryan Gosling Eva Mendes Married (Us Weekly)