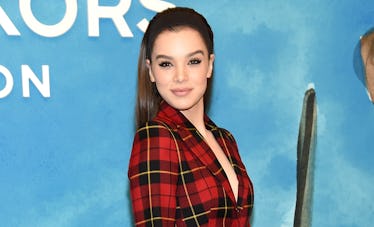 Hailee Steinfeld's New Netflix Movie Sounds Like 'Hannah Montana' Meets 'Devil Wears Prada'
Larry Busacca/Getty Images
Hailee Steinfeld is about to take her real-life experience as a pop star and put it on the screen, with a dark twist. Steinfeld is attached to star and produce an upcoming movie for Netflix called Idol, according to Deadline, and the premise for the film makes it sound like a creepy but compelling mixture of Hannah Montana and The Devil Wears Prada. Are you interested in that, because I know I am! Here are all the details about Hailee Steinfeld's new Netflix movie Idol that we know right now.
Reportedly, Netflix beat out big-screen movie studios Paramount and Universal to the rights for Idol, a movie about the dark, behind-the-scenes drama of the pop music world. And since the new movie is all about a pop star, it makes sense to cast one who can also act in the lead role. Hailee Steinfeld is set to star in Idol, although she actually will not be the big pop star at the beginning of the new film. Steinfeld will be playing the assistant to an A-list pop singer, and in a darkly twisted turn, she will begin to transform herself into her pop star boss. The plot has been described as The Devil Wears Prada meets All About Eve, implying that the pop star boss to Steinfeld's character is likely very demanding and cold when she's off the stage. The plot also sounds similar to the 2011 Leighton Meester-starring psychological thriller The Roommate, which centers on an obsessed woman physically transforming herself into her roommate, except with a pop music twist.
Hailee Steinfeld feels like the perfect choice to star in Idol, given her recognized acting chops as well as her real-world experience as a pop star herself. Steinfeld has already been nominated for an Academy Award for Best Supporting Actress thanks to her breakthrough performance in 2010's True Grit, and went on to steal scenes in beloved teen movies like the Pitch Perfect franchise and Edge of Seventeen, while also helming blockbuster action flicks like Bumblebee. Aside from acting, Steinfeld also made a splash in the music industry with her 2015 debut pop album Haiz, which spawned Top 40 hits like "Love Myself" and "Starving."
Idol will mark Hailee Steinfeld's first collaboration with Netflix. Along with starring, Steinfeld is also attached to produce the movie. The film will be directed by Matt Reeves, who is best known for writing and directing Felicity, War for the Planet of the Apes, and DC's upcoming Batman movie The Batman, which may be in limbo now after reports that Ben Affleck will no longer reprise his role as Batman. The script comes from British writer/actor Matt King.
There is no word yet on when fans can expect Idol to begin streaming on Netflix, but the massive success of the similarly-themed A Star Is Born in theaters now may have been influential in Netflix's interest in the pop-music movie. Idol is still in its very early stages of development, so don't expect it to be released until some time next year at the earliest.