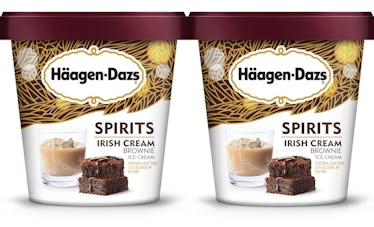 Häagen-Dazs' New Boozy Ice Cream Collection Features Irish Cream Brownie & More
Courtesy of Häagen-Dazs
What's better than regular ice cream, you ask? Boozy ice cream, that's what. I don't know about you, but I'm a huge fan of spirit-infused desserts. That, my friends, is why I'm so excited for Häagen-Dazs' new Spirits Collection. The boozy ice cream line, which was officially announced on Feb. 7, features seven alcoholic ice cream options. (One of them is dairy free, and another is in the form of a cookie — but I'll explain more about that later.) Before I get into detail about each flavor, make some room in your freezer and have a spoon on deck.
While you're making room for the tipsy-turvy treats, there are a few things you should keep in mind. For starters, you should know how big the cartons are. According to Häagen-Dazs' press release, each ice cream carton in the Spirits Collection holds 14 ounces of the good stuff. If you're ready to buy some, check if your local grocery store has them in stock yet. Per Häagen-Dazs, the new flavors are currently rolling out nationwide — but they won't be fully available until April 2019. If your go-to supermarket already has 'em lined up in the freezer aisle, you can buy a carton (or box) for a suggested retail price of $5.29.
OK, now that I've gotten that out of the way, I'll get into the fun details about each new boozy flavor. Let's get started, shall we?