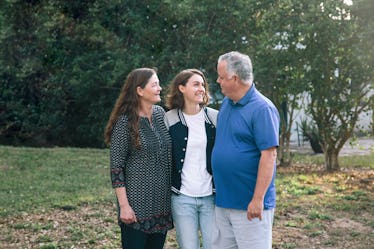 If You Had The "Cool" Parents Growing Up, These 7 Things Are Relatable AF
Not many people will admit this, but their "cool kid on the block" status was mostly because of their parents. (Weird, I know.) And of course, Mom and Dad wouldn't admit to it and steal any of your thunder, but their rad and laid-back demeanors resulted in that notoriety in your friend group when you were growing up. Growing up with cool parents in your group of friends most likely came with its ups and downs — and you really took note of the highlights.
For starters, everyone always wanted to hang at your place, because your parents were honestly a significant part of the squad. From childhood and even well into adulthood, their cool vibes and personalities have spread like a couple of legends, and the rest is history. You wouldn't trade them for the world, and you've turned down multiple bribes from your friends to be your new siblings.
It's pretty ironic, because as much as you may have tried to be "cool" growing up, all you really needed was what you were born with — your parents. It wasn't so easy being coined as the kid with the "cool" parents all of the time, but it certainly wasn't the worst experience, either. So, if your parents were way too cool for school when you were growing up, you can totally relate to these seven things.