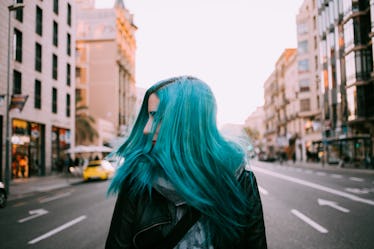 5 Truths You Can Only Relate To If You Grew Up In A Big City
Shannon Hansen, bullet journal author of the book Master Guided Bullet Journal, wrote a journal entry titled, "My heart burns for the city lights." That's what I think about when people ask me what it was like growing up in a big city. People who grew up in a big city know that's the only way to go. Once you've gotten attached to everything a big city brings — once you feel the city humming as you walk down the sidewalk — it's hard to step away. When you leave, there's a hunger for all of the bustle, no matter how long you've been away.
Big cities are my favorite places in the world to be. I can appreciate and enjoy the quiet serenity of the countryside, but home is where the heart is, and my heart likes the sound of car horns blaring, lights that never go off, and lots of people going lots of places at all hours of the day and night. You might feel the same way; as cramped, crowded, and overpriced as it is, you could never leave.
Why? Big cities have a special allure. I sometimes think you had to have been born and raised in one to understand that. (Or it's something you get after moving to a big city that fits you like a glove.) When you're used to nothing ever stopping or quieting down, silence is more alarming than comforting to you. You love the sound of a living, breathing city, and these five things, well, these are business as usual when you've come to call the city home.