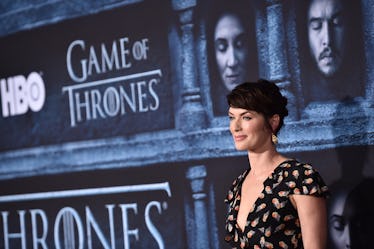 'GOT's Lena Headey Accuses Harvey Weinstein Of Harassment: "I Got Into My Car & Cried"
Alberto E. Rodriguez/Getty Images Entertainment/Getty Images
As the accusations against disgraced movie producer Harvey Weinstein mount, more and more women are coming forward with claims that he sexually assaulted or harassed them. And on Oct. 17, Game of Thrones actress Lena Headey alleged that Weinstein harassed her, too. She claimed via Twitter that Weinstein invited her to his hotel room, and, when she turned down his advances, told her to tell no one.
Headey, who plays the stone-cold Queen Cersei on Game of Thrones, shared her story on her Twitter account on Tuesday morning in a thread that described two alleged encounters with Weinstein over the course of several years. She first described an experience while she was promoting the 2005 movie The Brothers Grimm, distributed by Weinstein's company Miramax, per The Los Angeles Times. She alleged,
The first time I met Harvey Weinstein was at The Venice Film Festival. The Brothers Grimm was showing there (during shooting I was subjected to endless bullying by the director Terry Gilliam) At one point Harvey asked me to take a walk down to the water, I walked down with him and he stopped and made some suggestive comment, a gesture, I just laughed it off, I was genuinely shocked, I remember thinking, it's got to be a joke I said something like .. oh come on mate?!?? It'd be like kissing my dad !! Lets go get a drink, get back to the others. I was never in any other Miramax film.
Headey is the most recent addition to the list of dozens of women, including prominent names like Rose McGowan, Gwyneth Paltrow, and Angelina Jolie, who have so far accused Weinstein of sexual harassment or assault. In an earlier statement via a representative, Weinstein denied any allegations of non-consensual sex or retribution, saying,
Any allegations of non-consensual sex are unequivocally denied by Mr. Weinstein. Mr. Weinstein has further confirmed that there were never any acts of retaliation against any women for refusing his advances. Mr. Weinstein obviously can't speak to anonymous allegations, but with respect to any women who have made allegations on the record, Mr. Weinstein believes that all of these relationships were consensual. Mr. Weinstein has begun counseling, has listened to the community and is pursuing a better path. Mr. Weinstein is hoping that, if he makes enough progress, he will be given a second chance.
Elite Daily has reached out to representatives of Weinstein about the most recent allegations, as well as representatives of Gilliam regarding the accusations of bullying, but did not hear back by the time of publication.
In a subsequent tweet, Headey described the second alleged encounter — which is so much worse. She said that after the first meeting, she didn't encounter Weinstein again for several years, until the two met for breakfast in LA. "I had always carried the thought that he'd never try anything with me again, not after I'd laughed and said never in a million years," she wrote.
But, she claimed, he did.
After a breakfast meeting, she alleged that he invited her up to his hotel room, ostensibly to get a script — an excuse that many of the women who have so far accused Weinstein of assault have echoed. In the elevator, Headey said, her "whole body went into high alert." She allegedly told him that she had joined him in the elevator and was going up to his room only for work, and to not think she had any other reason.
Weinstein, she claims, was "furious." She wrote,
He was silent after I spoke, furious. We got out of the lift and walked back to his room. His hand was on my back, he was marching me forward, not a word, I felt completely powerless, he tried his key card and it didn't work, then he got really angry. He walked me back to the life, through the hotel to the valet, by grabbing and holding tightly to the back of my arm, he paid for my car and whispered in my ear Don't tell anyone about this, not your manager, not your agent.
I got into my car and cried.
Stories like Headey's, and those of the myriad other women who have so far accused Weinstein, have prompted a renewed (and much needed) discussion about sexual harassment and assault. On Oct. 15, the hashtag #MeToo took off on social media as a way for survivors of sexual assault to hopefully give others an idea of how prevalent the problem is. As a response, some male allies began replying with the hashtag #ItWasMe to take on responsibility for rape culture and apologize for misbehavior, and new discussions about what harassment and assault look like outside of Hollywood began to circulate.
But as more women keep coming out with new stories like Headey's, the conversation continues. It's clearly long overdue.