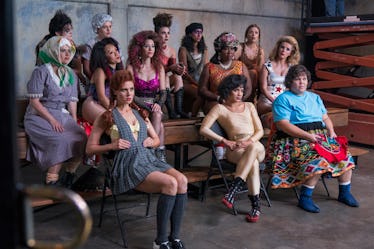 'Glow' Season 3 Is Officially Coming To Netflix, So Get Ready To Get Back In The Ring
Netflix
Get ready to hit the ring again, because we're following the ladies of GLOW on their next wrestling journey. Two months after the show's second season debuted on Netflix and the overall series eventually garnered 10 Emmy nominations, Netflix has finally confirmed that the Gorgeous Ladies of Wrestling will be back for more competitions and sparkly outfits soon. GLOW Season 3 is officially coming to Netflix, so consider this your warning to catch up with the series ASAP.
GLOW first won over fans in June 2017 when its first season launched to widespread acclaim. Based on the true story of the 1980s syndicated series Gorgeous Ladies of Wrestling, the series introduced a group of struggling women who turn to a professional wrestling promotion audition to make ends meet. The show particularly focuses on Allison Brie's Ruth, a struggling actress who reunites with her former best friend, former soap opera actress Debbie, when they both join the GLOW cast.
The official renewal was revealed in a post from GLOW's Twitter account on Aug. 20. Introducing the hashtag #GLOWS3, the tweet included a video montage of characters saying "Three," before sharing the message that a new season will debut on Netflix soon. The tweet also alludes to the cliffhanger ending of Season 2 in which the GLOW group decided to move their show from TV to a Las Vegas outlet, saying, "Did you think we'd GLOW to Vegas without you?"
Get in, guys, we're going to Vegas.
Given the release pattern of the first two seasons, it would make sense if we won't see Season 3 until next June, but this promo definitely hints that we may see new episodes sooner rather than later. Although the renewal is a recent update, the show's success and presence on the roster of Emmy nominations essentially guaranteed its eventual return. At the Television Critics Association press tour earlier this summer, GLOW co-creator Carly Mensch also seemed optimistic about a third season, saying:
We have many [plans for Season 3]. The joy of having 14 characters who went through so much in season two. We have a lot that we actually need to continue telling about because we kind of left you hanging with certain relationships [that] have just started — the biggest cliffhanger being Vegas, which we fully intend on delivering on. We have a whole new set of things to explore and a potentially new place.
While Season 2 moved GLOW's plot along in a massive way, the show's first season is still a huge topic of conversation. The season is up for 10 awards at the 70th Primetime Emmy Awards, including Outstanding Comedy Series and Outstanding Supporting Actress in a Comedy Series, a nomination Betty Gilpin earned for her portrayal of Debbie. Expect to see some press appearances of Gilpin and Brie talking about the upcoming season as we approach the Emmys in September. According to Mensch, we can also expect Season 3 to explore Ruth's true feelings about the new Vegas location and the consequences of Bash and Rhonda's sudden marriage.
Season 3 of GLOW will premiere on Netflix on an unknown date. The 70th Primetime Emmy Awards are Monday, Sept. 17, at 8 p.m. ET on NBC.