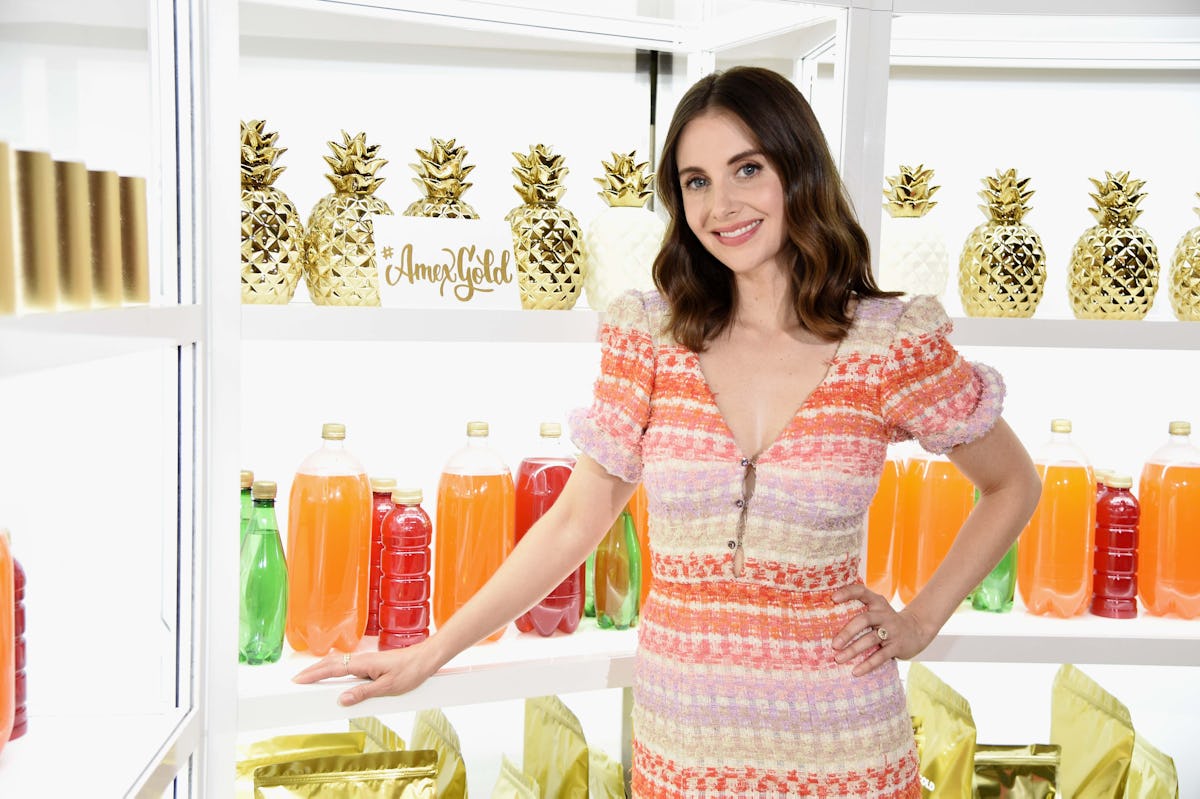 Alison Brie Has High Hopes For Ruth As 'GLOW' Season 3 Heads To Vegas – EXCLUSIVE
Bill Davila, courtesy of American Express
GLOW's Gorgeous Ladies of Wrestling are headed to Las Vegas, and while we likely have to wait until next summer for its third season, the Netflix comedy has left fans eager for its characters to keep discovering their power in and out of the wrestling ring. GLOW Season 3 left Ruth in a vulnerable state, but star Alison Brie has high hopes for her character's upcoming path. Matching Ruth's can-do attitude, Brie spoke to Elite Daily about her hopes for the show's third season, and her love of Ruth's optimism certainly hints that the character will do what she can with any obstacles in Vegas.
Recently in New York to celebrate the launch of the new American Express Gold Card, Brie has travel on the mind ahead of GLOW's Vegas ventures. The card's benefits include earning four times the Membership Rewards points at restaurants and grocery stores, as well as a $120 annual dining credit when purchasing meals from food-ordering services Grubhub and Seamless. Anyone craving an aesthetically pleasing wallet will also have the opportunity to request a limited edition rose gold rendition of the card, because what's the point of being an adult if your credit cards don't look sleek and shiny?
Although her work as an actress keeps her on the road constantly, Brie also values beneficial traveling with her husband, actor Dave Franco, saying, "When we travel in and out of the U.S., food is such a high priority for us. We plan our whole trips around where we're gonna eat...more than any other thing. You get three times the points as well when booking airfare so it's just constant rewards with this new card."
Although GLOW confirmed its return for a third season in August, Brie has yet to film any continuation of where viewers left the ladies at the end of the critically acclaimed Season 2. Her character Ruth closed the season with the dawning realization that the wrestling troupe's upcoming regular gig in Las Vegas might not be for her. "I'm not sure how Ruth is gonna react to being in Vegas, but I think signs point to her hating it and that's likely true," Brie says. "She seems to always want to make the best of every situation she's in, and I hope that she can do that in Vegas."
Also intrigued about the ambiguous state of Ruth's relationship with the GLOW TV show's director Sam (Marc Maron), Brie says, "I'm curious to see how all of the girls react to being in Las Vegas, to having a real steady gig where they're doing the same thing every night and where they're actually making some money... It's a pretty cash poor group of underdogs, so to be the stars of this big show in Vegas, I think [it] will be an interesting turn."
Expected to explore the pressure characters face when moving on to a live nightly show, the third season of GLOW will, like its predecessors, arrive at a time when stories of multifaceted women's lives and relationships with each other is more important than ever before. For Brie and her co-stars, working on such powerful material exploring women serves as a balm for the often tumultuous social climate.
"[When] all this stuff has been going on and headlines are breaking every day and we know that we work in a safe space where we are respected and listened to and valued, it empowers all of us," Brie says of her time on the series. "It's really inspiring to work with so many women on set and I think we all lift each other up on a daily basis, sometimes in a very literal way and all the time in every other way."
While the GLOW experience is a source of strength behind the scenes, we'll have to wait and see if Ruth's next path is just as healing. Season 3 of GLOW is expected to debut on Netflix in 2019.