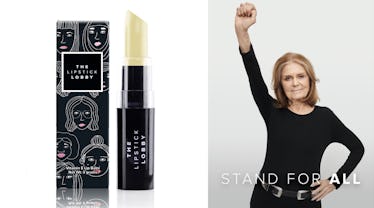 Gloria Steinem Released A Lip Balm With The Lipstick Lobby To Support Incarcerated Women
The Lipstick Lobby
There's power in the beauty industry when it comes to helping bring about positive social change. When a brand gets behind an important cause and supports it financially and otherwise, the effect can be huge. Gloria Steinem's lip balm, which she launched in partnership with The Lipstick Lobby, will help raise awareness about an important non-profit called the unPrison Project, while also benefitting it financially. Beauty is beautiful in more ways than one.
If you haven't heard about The Lipstick Lobby and the incredible way it works, I'm going to warn you that it's about to become your new favorite brand after you read this. As they describe themselves on their website, "We are a social justice movement for change, progress and equality. We empower women through statement lip products to fight for the issues most critical to our lives." Each time the brand releases a new shade or product, they do so in partnership with a worthy non-profit, which will receive 100 percent of net profits from the sales of the product. So far, The Lipstick Lobby has worked with Planned Parenthood, the American Civil Liberties Union, and the Brady Center to Prevent Gun Violence, which I'm sure you would agree are all beyond worthy causes.
And now, it's teamed up with none other than iconic activist Gloria Steinem on a new lip balm (Lipstick Lobby's first!) in support of the unPrison project. As explained on the unPrison Project's website, it "works to build literacy, mentoring, and life skills capacity for women and girls in prisons, and for their children, to help cultivate critical thinking as tools to plan, set goals, and prepare for successful life after prison, and at the same time bring public awareness about mass incarceration." It was founded by activist and author Deborah Jiang-Stein, who was born in a Virginia prison to a mother suffering from drug addiction.
"We are all becoming increasingly aware of the scandal and shame of our prison system — for which in some states is a profit center," Steinem said in an interview with Vogue. "Corporations are making money from prisons that charge as much per prisoner as it would take to send a student to Harvard, even though these offenses are minor." As of now, the unPrison Project has already reached more than 20,000 incarcerated women, which is 10 percent of the total female prison population in the United States.
Along with providing mentorships and curriculum focusing on juvenile justice, personal wellness and healing, education and literacy, and community and family to inmates, the unPrisonProject also works through two sub-programs: Up in the Streets, which provides literature and resources to individuals who have just been released from prison and are living in shelters; and Up With Books, which provides children's books to interested prisons and then facilitates a reading day to help incarcerated moms stay "connected and involved" with their children on visiting days. Pretty amazing, right?
It makes sense that Steinem, who has dedicated her life to speaking out on behalf of women and other marginalized people, would select the unPrisonProject to benefit from her The Lipstick Lobby collaboration. "I never wear lipstick," Steinem told Vogue, "but I can support a lip balm."
And thus, the brand's In The Clear Vitamin E Lip Balm ($19, thelipsticklobby.com) was born. Colorless, nourishing, and paraben-free, it's the perfect basic balm for your everyday needs and comes in a sleek black tube. It's a worthy pout product — and cause — to get behind.