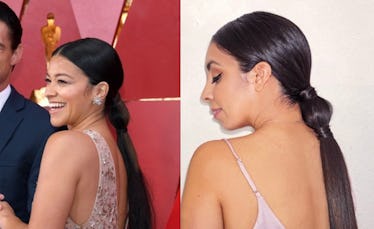 I Tried Gina Rodriguez's Oscars Ponytail & Hacked My Own Bad Hair Day
Kevork Djansezian/Getty Images Entertainment/Getty Images/Stephanie Montes
There's nothing worse than a hopelessly bad hair day. It looks like a mess no matter what you do with it, then you end up spending so much time trying to get it right, but the more you do, the worse it looks. Luckily for us, Gina Rodriguez's 2018 Oscars look is not only super chic and sophisticated, it's the ideal solution for your next bad hair day. Trust me, it's easy to recreate and you don't even need to call in reinforcements. Sure, Rodriguez had an entire team behind her look, but I tried it out myself, and I promise it's easier than it looks.
Although ponytails have gotten a bad rap for being the default lazy-girl hairstyle for running errands and hitting the gym, Gina Rodriguez paired hers with a red-carpet gown and there's nothing basic about it. "This hair look was derived from the neckline of the dress, and we wanted to give her more edge with the second layer of the ponytail," said her hairstylist Paul Norton in a press release. Parted in the middle and pulled straight back to the nape of her neck with a cute bubble at the base, there wasn't a single strand out of place and though the look was a show-stopper, it didn't take away too much attention from her gorgeous gown.
Norton breaks down how he achieved the look below:
1. Prep damp hair using TRESemmé Repair & Protect 7 Pre-Styling Spray and blow dry smooth and straight in sections from the nape up. Working in small sections, run a flat iron through hair to to achieve a pin-straight sleek look.
TRESemmé Repair & Protect 7 Pre-Styling Spray, $5, Target
2. Apply TRESemmé Keratin Smooth Shine Serum to give hair shine and part at the center. Using a flat brush, pull hair into a tight ponytail at the nape of the neck and secure with an elastic.
TRESemmé Keratin Smooth Shine Serum, $5, Target
3. Once secured into a low ponytail, take a small piece of hair and wrap it around the ponytail to hide the elastic. Secure this section with a few bobby pins.
4. About three inches from base of the ponytail, add a second elastic to create a bubble effect. Same as before, use a small piece of hair to hide the elastic and secure with bobby pins.
5. Lastly, brush through the bottom of the ponytail to smooth and finish off the look using TRESemmé Compressed Micro-Mist Hair Spray in Level 2: Smooth to tame any flyaways and lock in the look.
TRESemmé Compressed Micro-Mist Hair Spray in Level 2: Smooth, $5, Target
It sounds easy enough, but Gina Rodriguez's hairstylist Paul Norton is obviously a professional. I decide to take the look for a spin and see just how foolproof it really is. I'm in desperate need of a haircut, and I've been having more subpar hair days that usual lately, so there's not better time than now to try it out. As it turns out, it's just as easy as creating any other ponytail and it totally disguised my bad hair day!
Who needs a glam squad, amirite? I have wavy hair, so the straightening took up most of my time, but most beauty junkies can do that in their sleep. Since it's going in a ponytail, you can save some time by just focusing on getting the ends really straight, but make sure to get the roots around the part to make your ponytail lay really flat.
Pulling it into a ponytail was a no-brainer but I think it looks amazing, if I do say so myself (and I do.) I instantly went from bad hair day to bad and boujee — and I'm obsessed. It even changed my mood. I didn't have plans for this evening, but now that I have this hairstyle, I'm definitely going to hit the town (and maybe dramatically whip my hair back and forth).