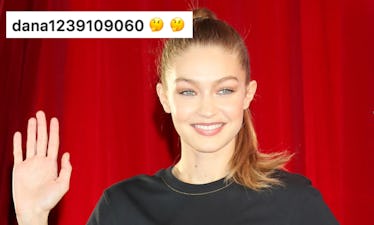 Gigi Hadid's Followers Are Conflicted Over Her Controversial New 'Chaos' Magazine Cover
Ken Ishii/Getty Images Entertainment/Getty Images
As a rule, I'd probably follow Gigi Hadid to the pits of hell. I think she's pretty freaking cool. Together with her sister Bella and friend Kendall Jenner, these women have reworked what it means to be a "model." An industry that used to be reserved for print photos and runway shimmies has blossomed into a social media force, giving fans insight into the personalities and day-to-day lives of their favorite supermodels. Hadid is at the top of the fan-favorite list. For this reason, you can imagine Gigi Hadid's Chaos magazine cover has fans feeling conflicted due to its controversial nature. Is it possible our girl missed the mark? Elite Daily reached out to Hadid's team for comment on the cover but did not hear back by the time of publication.
Hadid and model Mica Argañaraz came together to shoot the polarizing image. In the photo, Argañaraz is nude, wet, and precariously draped over Hadid's shoulders. She appears to be asleep or unconscious. Hadid is dressed in a suit reminiscent of a water rescue team uniform, and together the women are standing in front of a river at an industrial location. The Freedom Tower looms in the background. For all intents and purposes, it looks like Hadid just rescued Argañaraz from a pretty messed up situation.
My personal opinion is that the photo is equal parts stunning and jarring. Take a look.
It took me a minute to figure out my feelings.
Hadid's accompanying caption includes both a joke and poignant statement, reading:
catch of the day / girls saving girls !NEW @chaossixtynine COVER by the epic @cassblackbird ! so much love for the duo that is @chaos tysm !!!!& loooove you @micarganaraz, I'd save you any day 😜🌊🧡
You can imagine people are conflicted in the comments. Some say the image is in poor taste and clearly designed for shock value. Others argue Hadid's statement about "girls saving girls" is valuable (while others pointed out it was undermined by her "catch of the day" gag).
Loads of people just love her icy hair color.
I'm a little more tuned into the "catch of the day" bit, like this person:
One person wrote, "Very special picture shows live care humanity kindness and passion very strong meaning," while another vehemently disagreed commenting, "Wtf is dis??!"
One user articulated what many women seem to be grappling with:
I like the concept of girls saving girls but the message in the picture says something else to me. I want to see positive images of women & girls, not images that make us look like helpless victims that have been fished out from the bottom of a river. Images are powerful, let's choose positive ones!
Hadid also shared another photo from her shoot that was simply a close-up of her famous stunning eyes decked out in light-blue mascara. In the image, she wears an expression of surprise or shock, and the overall effect is much more playful than it is alarming.
Not for nothing — the name of the magazine is Chaos, which might be exactly the reaction they were looking for.