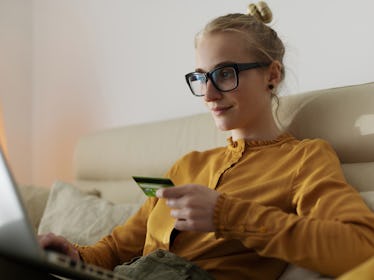 7 Things You Should Know The First Time You Get A Credit Card
Swiping is one thing this generation has become accustomed to — but not all swiping is as simple as going left or right. Swiping a credit card comes with major responsibilities, which is why you should educate yourself on what they're for, and most importantly, how they can aid or hurt your credit. There's tremendous adulting involved with getting a credit card for the first time — and it's not the kind that should be taken lightly (although, ironically, the card is plastic, practically weightless, and super bendy).
OK, not to get all scary or anything, but your credit is like a letter grade that follows you throughout your adult life. If you mess up, there's no such thing as taking the test over or getting a curve. It's fixable, but it's not a quick fix. According to Credit Karma, data collected from 2017's first quarter revealed an adult in the United States equips themselves with two to three credit cards. You've likely become more apt to checking your credit score since you've been out on your own, because it can dictate parts of your livelihood like getting a car or approval for an apartment.
Credit cards can help you attain a good credit score, but that's only if you use it wisely. Your credit really is like your monetary word to outsiders that you are responsible. It definitely has its perks, and if you're considering getting a credit card or recently got one for whatever reason, you'll need to keep some key info in mind.