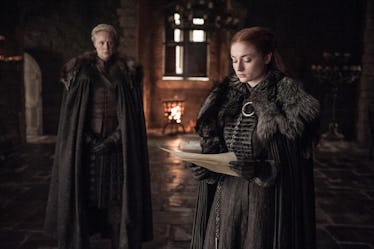 'GOT' Has The Most Emmy Nominations In The History Of Scripted Shows & No One Is Shocked
HBO
Another Emmy year, another haul of nominations for Game of Thrones. Since Season 3, the show has raked in the most nominations of any show, with 16 in 2013, 19 in 2014, 24 in 2015 and 23 in 2016. Last year, Game of Thrones' schedule was such that the show sat the Emmys out, but a year-long wait between the premiere of Season 7 (which debuted on July 16, 2017) and the Emmy nominations (July 12, 2018) did not dampen their count, with 22 nominations. This means Game Of Thrones has the most Emmy nominations of any scripted series in history.
At this point, Game of Thrones making Emmy history is old hat. The 24 nominations haul of 2015 netted the show 12 wins overall, the most of any show in a single season, knocking off the previous title holder The West Wing. That year also brought them another milestone, as those 12 wins brought the show's overall Emmy win count to 26, tying for most-decorated TV drama, which was held by both The West Wing and Hill Street Blues at 26 each after seven seasons apiece. Game of Thrones tied them in five.
But both those shows are off the air. Game of Thrones was going into Season 6, so naturally, by the next year in 2016, GoT had broken the TV drama record. They also landed most wins for a scripted drama overall, beating out Fraiser, which won 37 Emmys over the course of the show's 11 season run. Game of Thrones beat it in six, with 38 wins and counting.
Now, according to The Wrap, Game of Thrones has broken yet another record. Their math puts this year's 22 nominations at a total haul of 129 nominations*.
(*I actually did the math and came up with 128. Season 1: 13, Season 2: 11, Season 3: 16, Season 4: 19, Season 5: 24, Season 6: 23, Season 7: 22.)
Either way, 128 or 129 still beats the previous record-holder, which was ER. ER garnered 124 nominations over the course of 15 seasons. Game of Thrones did it in seven.
But this is as far as Game of Thrones will get, even with a final eighth season to come next year. The show with most nominations period, scripted or unscripted, is Saturday Night Live. With their haul this year of 21 nominations (tying them for second place with HBO's other major drama Westworld), SNL has the most nominations for any series ever with 252 and counting.
This doesn't mean Game of Thrones is done, however. Not only do they now have the most nominations for a scripted series, but Peter Dinklage broke a record as well, with his seventh consecutive nomination for Outstanding Supporting Actor in a Drama. He is now the most nominated person in the category ever.
Dinklage, who has played Tyrion Lannister in HBO's fantasy series since 2011, was previously tied with The Waltons' Will Geer, LA Law's Jimmy Smits, Ed Begley Jr. (St. Elsewhere) and Hill St. Blues' Bruce Weitz, each with six nominations. If Dinklage wins, he'll tie Aaron Paul (Breaking Bad) for the most wins in the Supporting Actor in a Drama Series category.
Dinklage has won twice so far for his role as Tyrion Lannister. This year he'll be competing against his own brother on the show, Nikolaj Coster-Waldau, who plays Jaime Lannister. Add in Lena Headey, who is nominated for Outstanding Supporting Actress for Cersei Lannister, and it's a clean sweep for their family. This is Headey's fourth nomination for the role over seven years, and Coster-Waldau's first.
The Primetime Emmy Awards air on NBC on September 17, 2018, at 8 p.m. ET.