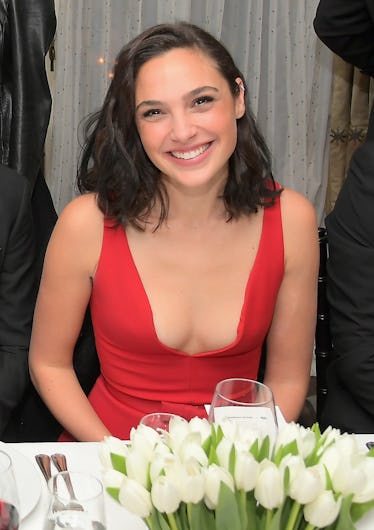 Gal Gadot Shared The Most Heartwarming Story About Her Daughter & I'm Crying
Charley Gallay/Getty Images Entertainment/Getty Images
Listen guys, I am a grown woman and I am unashamed to admit that I cried when I watched Wonder Woman. Twice. I loved the movie almost as much as I've loved watching star Gal Gadot be charming and adorable on the press trail. Every time Gadot interacted with some adorable little girl in a Wonder Woman costume, my soul became a little less dead inside. So hearing Gal Gadot's adorable story about her daughter is just that little something extra to get me through the holiday season.
On Dec. 25, Gadot shared the story of finding out that Wonder Woman was a hit with Entertainment Weekly, and it featured a very special guest — Gadot's six year old daughter, Alma. The short essay that Gadot wrote for the magazine described the evening when the reviews for Wonder Woman were set to be released. She wrote that as she waited for the reviews to come out she told her young daughter to go to bed, saying that she needed to do some work that night. "And of course that night she was very much awake," Gadot wrote. "I said, 'Okay. I'm going to bring my computer and sit next to you until you fall asleep.'"
But when the reviews came out — and they were good — Gadot couldn't keep her excitement to herself, sleeping child or no. She called up the film's director, Patty Jenkins, to freak out.
I was just screaming: "Ahhhhh!"
She said, "It's good? It's good?"
I said, "It's unbelievably amazing! I can't believe this is happening to us right now!"
And her daughter got in on the excitement, asking what was happening. And then this adorable exchange happened:
I told her: "People are liking the movie. See, if you work hard enough and you have good intentions sometimes in life people appreciate it."
And she jumped at me with teary eyes and said, "I'm proud of you mommy!"
My heart.
I can see why Gadot and her daughter were so thrilled, because in case 2017 has got you down and you're having a hard time remembering back to early June, the reviews for Wonder Woman were awesome. The movie has a 92 percent "fresh" rating on Rotten Tomatoes, and the reviews, both critical and casual, are pretty darn praiseworthy.
But what makes it extra sweet? How much Gadot's character has meant to so many little kids, particularly little girls, who suddenly have a female superhero to look up to. Gadot herself is known for being charming and supportive with little kids, so it's only fair that the little kids in her life are charming and supportive of her.
Gadot has shared plenty of adorable moments with small children, particularly ones dressed up as Wonder Woman. In mid-December, a video of Gadot meeting — and picking up and posing with — a little girl dressed like her character went viral. In the video, Gadot and her mini-me are all smiles posing for the photo, as the camera pans over to an adult woman wearing her own Wonder Woman shirt, who is visibly tearing up to see the little girl so happy.
And then there was the compilation video Gadot shared on her own Twitter which showed her meeting and posing with fans of all sizes (though it's still the littlest ones that have me with all the Feels).
But even all these adorable interactions aside, it's probably not hard to think your mom is super awesome when your mom is literally Wonder Woman. I mean, yeah, all moms are superheroes — but when your gets the actual iconic movie, you can't not be proud.