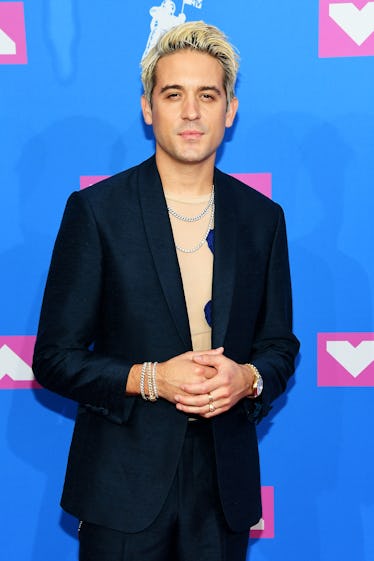 G-Eazy Just Picked A Side In The Eminem & Machine Gun Kelly Feud With An Epic Instagram
Nicholas Hunt/Getty Images Entertainment/Getty Images
The feud between Eminem and Machine Gun Kelly has gotten so intense that people are having to pick sides. And some celebs aren't above doing that at all. Take G-Eazy, for example. G-Eazy picked a side in the Eminem and Machine Gun Kelly feud and he's not apologizing for it. So, which side did G-Eazy choose? Well, he sided with Eminem, of course.
See, G-Eazy and Machine Gun Kelly don't have the most pleasant history. After beach photos of Machine Gun Kelly and G-Eazy's girlfriend Halsey surfaced in July, things between the two rappers have been icy. At the time, Halsey and G-Eazy were on a break and Halsey quickly clarified that she wasn't seeing Machine Gun Kelly.
But a month later, Machine Gun Kelly did a freestyle for Hot 97 which stirred up even more drama. Here's what he said:
Let's just keep it G, only Easy I f**k with is E / I seen he's dyed his hair and got a hanging earring / I f**ked his girl now he looks like me this sh*t overbearing / How dare him, I dare him, don't think about comparing / Turn that frat rap off I'm getting sick of hearing
G-Eazy responded with his own diss track:
MGK please stop trolling me, get over me / You wanna be me, you're mad that you're not as big as me / Call a Uber, turn on the radio, imagine hearing me / 'Him & I's on, mad you're listening to Halsey sing to me … / Disrespect her again, I'll smack you, I'm not a boy.
Needless to say, G-Eazy doesn't seem to have any love for the MGK. And he definitely confirmed that by siding with Eminem.
In an Instagram post, G-Eazy shared a photo of himself with Eminem. The caption on G-Eazy's post read, "Let's talk about it," and was seemingly in reference to Machine Gun Kelly's diss track "Rap Devil" in which he accuses Eminem of blackballing him.
These are some of the lyrics:
Let's talk about the fact you actually blackballed a rapper / That's twice as young as you (let's talk about it) / Let's call Sway / Ask why I can't go on Shade 45 because of you (brrt) / Let's ask Interscope / How you had Paul Rosenberg tryin' to shelf me (huh?) / Still can't cover up the fact / Your last four albums is as bad as your selfie / Now tell me, what do you stand for? (what?) / I know you can't stand yourself (no) / Tryin' to be the old you so bad you Stan yourself (ha) / Let's leave all the beefin' to 50 (please) / Em, you're pushin' 50
Here's what G-Eazy posted to Instagram:
"Rap Devil" was essentially a reaction to Eminem's Kamikaze album, which includes several diss tracks. One in particular, "Not Alike," called out Machine Gun Kelly specifically.
If you wanna come at me with a sub, Machine Gun / And I'm talkin' to you, but you already know who the f**k you are, Kelly / I don't use sublims and sure as f**k don't sneak-diss / But keep commenting on my daughter Hailie / I keep on telling motherf**kers / But just in case you forgot really and need Ja memories / Jarred like strawberry or pineapple, apricot jelly / I respond rarely, but this time Shady 'bout to sound off / Like a f**kin' cocked semi Glock, demi-god / Let me put a f**kin' silencer on this little non-threatening blonde fairy cornball takin' shots at me.
Even after the initial diss track, Eminem had more to say in response to "Rap Devil," and that response was two-fold. First, there was an interview with Sway Calloway, which gave the rapper a platform to explain "Not Alike":
The reason that I dissed him is because he got on — first what he said 'I'm the greatest rapper alive since my favorite rapper banned me from Shade 45' or whatever he said, right? Like I'm trying to hinder his career. I don't give a f**k about your career. You think I actually f**king think about you? You know how many f**king rappers are better than you? You're not even in the f**king conversation.
Second was "Killshot," an all-new diss track for Machine Gun Kelly. Here are some of the lyrics:
Ow, Kelly, ooh, but I'm 45 and I'm still outselling you / By 29 I had three albums that had blew / Now let's talk about somethin' I don't really do / Go in someone's daughter's mouth stealin' food / But you're a f**kin' mole hill, now I'ma make a mountain out of you, woo! / Ho, chill, actin' like you put the chrome barrel to my bone marrow / Gunner? B*tch, you ain't a bow and arrow
Lyrics aside, it's pretty clear that this feud is intensifying as the days go by. It wouldn't surprise me if even more celebs took sides. G-Eazy may just be the first to do it!