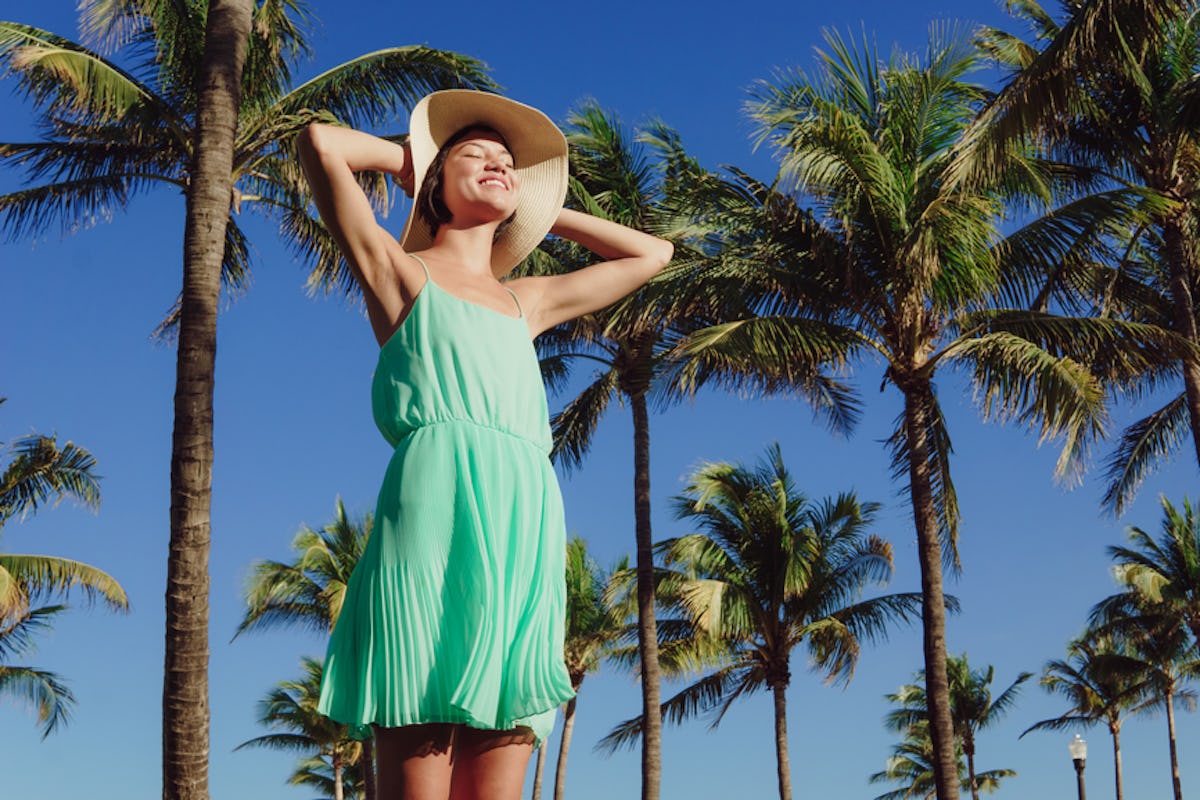 You Can Fly To Florida For $29 Dollars With This Airline's Sale, So Pack ASAP
Between the frigid weather and those select few people eating Tide Pods, a little vacation away from 2018 sounds really nice right now. Even just a couple days off school or work would be perfect for a little "you" time. But as we all know, traveling can be hella expensive and kind of a hassle. Luckily, Frontier Airlines' flight sale has $29 trips around the country right now, so you have the opportunity to save a little money on your getaway. You have to act quickly, though.
Frontier's breathtaking deals span far and wide throughout the U.S., departing from various locations such as Atlanta, Austin, Chicago, and Colorado. Some of the sweet destinations include Vegas (Baby!), Tampa, Philadelphia, and even Denver. Holy moly, with over 200 routes with one-way tickets for $49 or less, we can't even decide where to go first. And if you're a Discount Den member with Frontier Airlines, these flights are literally $29. We're currently in the middle of January, and it's time to escape your winter blues. Buy your tickets while you can, because these flights are likely gonna sell out quickly.
To get tickets during the sale, customers must purchase them by 11:59 p.m. ET on Jan. 19, according to Thrillest. They must embark on the trip by Mar. 7. The deals are $29 for Discount Den members only, but they're also inexpensive without a membership. For non-members, these flights are $49 or less. When you think about it, a little extra cash isn't too shabby for non-subscribers. The site specifies that each fare is only for a one-way ticket, so make sure you buy a flight home as well (unless you're seriously considering on not returning to work). But it's totally OK if you decide to do that — we'd 100 percent cover for you... if that's somehow possible.
Frontier's annual Discount Den subscription gives immediate access to all of Frontier's lowest available fares. It's only $49.99 per year, and the cheapest fares are available for up to six people in each itinerary, as long as the person paying for the subscription is one of the passengers. Members also gain miles for each purchase, so it's useful if you plan on traveling with Frontier Airlines on a semi-regular basis. The Discount Den subscription is honestly a pretty sweet deal, but if you don't already have it for this trip, it might bring other valuable discounts in the future — if you tend to be generally prone to wanderlust, that is.
Frontier Airlines isn't the only company that's literally been saving our souls with January travel deals. Another airline that has blessed us with major sales throughout the past month has been JetBlue, which had a plethora of super awesome deals going around the U.S. and even to the Caribbean, starting at $49. They were beyond incredible sales, and I hope you were able to take advantage of them. Let's be real: We're all secretly dying to get a taste of the Bahamas — or literally anywhere that has a little sunshine at this freaking freezing moment in time.
If you do decide to embark on a magical winter escape, you're definitely gonna want to make sure that your Instagram game is top notch. Make sure to check out all of the best Instagram captions while traveling with friends, because they're all honestly so cute and will undoubtedly enhance your photos. And for real, if you didn't nail your Insta pics, did you really go anywhere?
Check out the entire Gen Why series and other videos on Facebook and the Bustle app across Apple TV, Roku, and Amazon Fire TV.