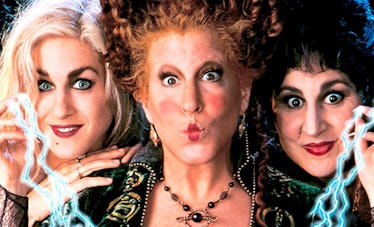 All 3 Sanderson Sisters Are On Board For Freeform's 'Hocus Pocus' Reunion Special
Disney
Halloween is right around the corner and with that comes the annual tradition of watching everyone's favorite Halloween movie: Hocus Pocus. Thanks to Freeform, you can watch the film almost every night this month if your heart desires. And on top of that, Freeform will also be hosting the Hocus Pocus 25th Anniversary Halloween Bash on Saturday, Oct. 20. The 25th anniversary special will include musical performances as well as appearances by many of the film's stars. In fact, Freeform's Hocus Pocus reunion will also include all three Sanderson sisters. So, you know it's going to be an incredible event.
The Hocus Pocus 25th Anniversary Halloween Bash will air as part of Freeform's 31 Nights of Halloween. Bette Midler, who played Winifred Sanderson in the film, just revealed that she'll be part of the special alongside her Sanderson sisters, Sarah Jessica Parker and Kathy Najimy. And that's super exciting because what would a Hocus Pocus reunion be without Bette Midler?
News of Midler's participation comes weeks after Freeform announced that they were reuniting the rest of the cast for the special.
According to E! News, the Hocus Pocus 25th Anniversary Halloween Bash will feature interviews with Midler, Parker, and Najimy, as well as Omri Katz, Thora Birch, Doug Jones, Amanda Shepherd, Larry Bagby, Jason Marsden, and Tobias Jelinek. The film's director Kenny Ortega, writers Mick Garris and David Kirschner, choreographer Peggy Holmes and composer John Debney will also take part.
Needless to say, almost everyone involved in the cult-classic film will be participating in this incredible reunion special.
Here's how fans learned that Midler would be part of the special as well:
Midler's appearance on the special makes the whole thing complete. All three Sanderson sisters on the same reunion special? So exciting!
In addition to highly-anticipated appearances by the film's cast, the Hocus Pocus 25th Anniversary Halloween Bash will also feature a costume contest judged by none other than Sharon Osbourne and Kelly Osbourne. So, this special is shaping up to be quite an incredible event. You definitely won't want to miss it.
You can also expect to see performances by Dove Cameron, PrettyMuch and Junior New System.
If you're looking for even more Hocus Pocus and even more exciting entertainment, Freeform will be airing a "Pop'n Knowledge" version of the film right before the reunion special. This version of the film will include trivia and commentary about fan-favorite moments from the film.
Check out the trailer for Hocus Pocus:
And if that's not enough Hocus Pocus for you, then you'll probably want to tune into Freeform's Halloween marathon of the film. The film will basically be airing all day long on loop, so you'll have plenty of time to sit down with friends and family to watch it.
This is what Freeform's Halloween schedule looks like:
7:30am/6:30c Hocus Pocus
11am/10c Disney Pixar's Toy Story of TERROR!
11:30am/10:30c Decorating Disney: Halloween Magic
12:30pm/11:30c Hocus Pocus
2:40pm/1:40c Hocus Pocus
4:45pm/3:45c Hocus Pocus
6:50pm/5:50c Hocus Pocus
8:55pm/7:55c Hocus Pocus
12am/11c Hocus Pocus
See? Plenty of opportunities to catch the film! As for the Hocus Pocus 25th Anniversary Halloween Bash, you can catch it on Freeform at 8:15 p.m. on Saturday, Oct. 20!