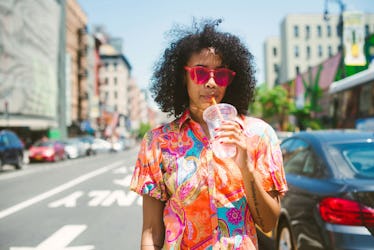 All Of The Free Things To Do In NYC This Summer If You're Ballin' On A Budget
So, you're headed to NYC this summer, but between the flight and hotel stay, your pockets aren't as full as you'd like them to be. No worries, because finding affordable activities isn't impossible in The Big Apple. You can still explore and live your best life with these free things to do in NYC this summer.
Is this a vacay or turnaround trip? Either way, you're well on your way to a fun time in NYC that won't break the bank. Let's be real — things can get pricey when you're visiting a new place. By the time you get out of the train station or airport, you already have a bag full of trinkets to take home. Well, if you're balling on a budget, you'll have to get one less "I Love New York City" shirt, but you'll still be able to get out on the town and do stuff.
Those popular attractions in NYC might cost you a pretty penny, so you sort of need the 4-1-1 about the low-key hot spots. Lucky for you, I've listed a few ideas so that you can have a good time without worrying too much about your wallet. These seven things are free and worth giving a try during your visit.