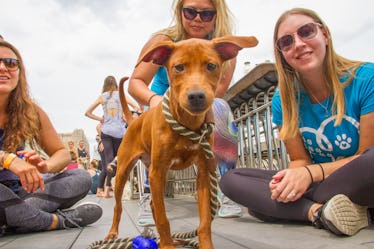 Yoga For The Pups Is The Best Way To Celebrate National Yoga Month & Your Dog Obsession
If I told my 6-year-old self that when she grows up, she'll be teaching yoga classes to more than 200 people surrounded by puppies, she probably would have passed out. But here I am, doing exactly that, and loving every single second of it. At the risk of sounding tremendously corny, when you work hard from a place of passion and do what you love, your dreams really do become a reality. Every couple of months, I lead yoga classes and meditations at Yoga For The Pups charity events with Franklin & Whitman, a cruelty-free skincare brand whose social mission is to raise money for rescue dogs that need homes.
Now, you might be wondering what a skincare line has to do with yoga and puppies, so allow me to explain: Christopher Cieri, the founder of Franklin & Whitman, does far more than help to create all-natural face masks, dry shampoos, and serums. He also has a deep love for all types of dogs, hence the brand's social mission, which "pledges that we will donate 5% of all Franklin & Whitman sales to Dog Rescue Organizations."
"From the start, I knew I wanted to have a social mission for the company, and it just made sense to me to donate 5 percent of all sales to dog rescue organizations all over the country," Cieri tells Elite Daily in an interview.
"I am always trying to think of new ways to expand our mission and give more," Cieri adds, "so when we moved into our current headquarters [and] I realized the space was slightly larger than what we needed, I jokingly said 'How many yoga mats do you think we can fit in here?'" And with that, the idea of a charity event focused around yoga, and puppies, was born.
The first three events were held in the Franklin & Whitman space, located at the Bok Building in Philadelphia, Pennsylvania. "[That] was very cool, but also a logistical problem since we had to clear our entire space and shut down all operations leading up to the events," Cieri explains. "Since then, we have used rooftop spaces, hotel events spaces, and the gymnasium of our building (a converted, former public high school) for the events, and we've been able to up the attendance from 50 in our space to as many as 200 [people]!"
Let me tell you firsthand that the energy at these events is indescribable. The combination of flowing alongside incredible yogis and cuddling with the absolute cutest of pups afterward is what makes Yoga For The Pups a truly one-of-a-kind gathering.
Plus, there's always a delicious lunch served for some post-yoga nourishment, as well as awesome swag bags full of face masks and healthy snacks that you get to take home with you. And, did I mention the puppies?
Playing with the dogs is, of course, amazing, but Cieri says the whole purpose of having the pups there at all is to ultimately make it as easy as possible for the animals to find a great home. "Each event is different, but we make it a point to ensure that representatives are present from the particular rescue organization we are donating to," he tells Elite Daily. "I even announce at each event that if anyone begins the adoption process at the event, I will pay their adoption fees and give them a year's supply of face masks!"
*Sobs softly*.
And guess what? If you're a human, you're invited to Yoga For The Pups — regardless of your yoga chops. "The events are for all yoga levels and all humans," Cieri says. "Our environment is one of love and acceptance. You get into your flow, have a delicious lunch, go home with an amazing swag bag, hear some amazing people [in the wellness world] speak, and get to play with adorable, loving pups. What's not to love?"
So how do you attend one of these events to get your flow on, de-stress, eat good food, and help pups in need? Here's the scoop: There are two Yoga For The Pups events coming up — one in Philly on Oct. 14 and another in Boston on Nov. 3 — with tickets being sold for $45 a pop. More events are always being announced, so if you can't make it to Philly or Boston, don't sweat it. But make sure you're following Franklin & Whitman on social media to find out when the next event will take place near you.
"I want to change the world," Cieri tells Elite Daily, "and if that means the change comes from finding dogs the loving homes they so desperately need, then I am totally delighted with that. It would have been a life well lived."