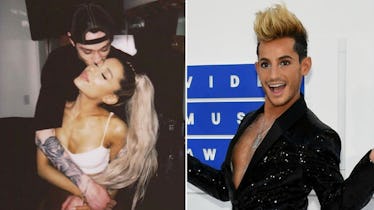 Frankie Grande Just Gave An Encouraging Update About How Ariana Is Doing Post-Breakup
ARIANA GRANDE ON INSTAGRAM; JAMIE MCCARTHY/GETTY IMAGES
Frankie Grande has his sister Ariana's back no matter what. And he made that 100 percent clear to Entertainment Tonight. The 35-year-old entertainment personality spoke to ET about his little sister and he says she's doing just fine in the aftermath of her breakup with Pete Davidson. Frankie Grande's update on how Ariana is doing post-breakup is really heartwarming and shows just how resilient the singer is!
Frankie spoke with ET while attending Bette Midler's 2018 Hulaween party to benefit the New York Restoration Project in New York City on Monday, Oct. 29. In his interview, he insisted that his superstar sister is doing really well and she's spending time with family.
"Ariana is doing well," he told ET. "We just had game night together, the other night. It was me, Mommy, and Nona, and we just had a great time. Mommy won! It was Phase 10, Mommy won. But it's good."
Frankie's update about his sister comes just weeks after she parted ways with her former fiancé, Pete Davidson. The two split after just five months of romantic bliss. Not only that, but the famed singer was reportedly still reeling from her ex-boyfriend Mac Miller's death at the time.
In an Oct. 15 report from People, a source close to the situation revealed that Miller's death had a lot to do with Ariana's decision to split from Davidson.
"It was devastating and shocking to her. It's had a huge, negative impact on her life. It made her rethink many things in her life," the source said. "She realized that planning a wedding right now felt very rushed. It's not what she wants to do right now. She doesn't want to make any rushed decisions and has decided to take a step back instead."
In any case, Ariana seems to be getting back into a normal routine. Not only is she spending time with family, but Frankie says that she's got a lot of work lined up. In addition to talking about all of the family's time together, Frankie also explained that his sister is working hard on her Sweetener tour and on new material for her fans.
"She's working really hard, you know, getting prepped for tour and another album," Frankie revealed to ET. "Like, it's too much! Lots of stuff is going on."
Part of that "stuff" is likely Ariana's BBC One special, which is set to air on Thursday, Nov. 1. The special will reportedly include a tribute to Manchester, an all-female orchestra, and a full choir as well as provide some insight into the singer's creative process.
Frankie also opened up about his sobriety and how much support he's received from fans.
"It's been an incredible journey, and I had such amazing support," he told ET. "I became publicly sober on my year so many people have reached out to me and asked me how to do it."
All in all, it sounds like everyone is the Grande family is doing really, really well even in spite of their recent drama and heartbreak. It's so nice to see that they have each other's backs no matter what comes their way.