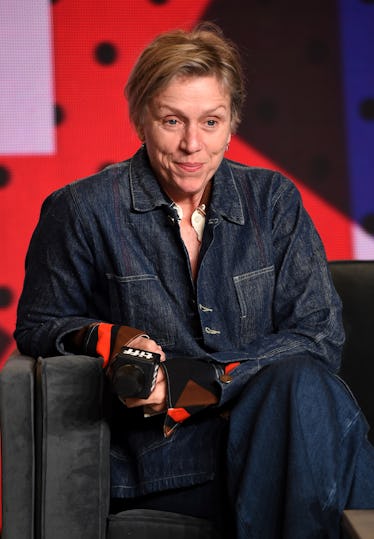 Frances McDormand's Speech At The Golden Globes Is Seriously So Inspiring
Kevin Winter/Getty Images Entertainment/Getty Images
It's that time again, folks. Awards season is officially underway, and the 75th annual Golden Globe Awards are kicking things off this year. Things have already gotten off to an interesting start, but there's a certain award result that has definitely kept us guessing until now. One of the night's biggest categories, Best Performance by an Actress in a Motion Picture — Drama, is stacked with accomplished thespians. So, who won Best Performance by an Actress in a Dramatic Movie? Frances McDormand pulled off the win. Well, it's about time.
The great McDormand picked up a win for Three Billboards Outside of Ebbing, Missouri this year, which is her sixth Golden Globe nod overall. She was honored for her work as part of the Short Cuts ensemble back in 1993, but never won. It's hard to believe, looking back at the course of movie history, but Madonna's performance in Evita actually beat McDormand's portrayal of midwest detective Marge Gunderson in Fargo. Oh, geez.
And as to be expected, her speech was epic. "Well, I have a few things to say," she started off.
"Many of you know I keep my politics private," the actress stated after making a round of moving thank yous and a promise of tequila on her for the ladies after the show. "It was really great to be in this room tonight and to be a part of a tectonic shift in our industry's power structure. Trust me. The women in this room tonight are not here for the food. We are here for the work. Thank you."
Among the other nominees were Meryl Streep, who didn't disappoint playing publisher Katharine Graham in The Post. The prolific performer has been up for a Golden Globe a whopping 14 times over her career — the most nominated in the show's history. She won eight Globes previously.
Michelle Williams (nominated for All the Money in the World) is certainly no stranger to the Golden Globes, either. The artist, formerly known as Dawson's Creek's Jen Leery, has proven herself to be a cinematic force to be reckoned with ever since she pulled off a memorable, moving appearance in Brokeback Mountain in 2006. Williams has garnered five nominations since that film, and won for My Week With Marilyn in 2012.
Jessica Chastain isn't exactly a newbie when it comes to the award show scene, either. The nominee for Molly's Game has been nominated five times since 2012. Her performance in Zero Dark Thirty earned her her first and only win... so far. Jessica looks like she's just getting started.
While Sally Hawkins doesn't quite have the quantity of nods under her acting belt as her competitors do, she did win for 2009's Happy-Go-Lucky. It's unsurprising that the British-born actress was nominated for a second time for playing a mute custodian in Guillermo Del Toro's breathtaking, unique love story, The Shape of Water.
But it looks like McDormand edged out the competition playing Mildred in Three Billboards. The performer spoke to Entertainment Weekly about embodying her complex character:
I believed there were places where Mildred simply can't access her emotions. So why be afraid of that? Everybody is f*cking crying in movies all the time, even the men! For me, that's not Greek tragedy, it's a therapy session. It's about neuroses and not pain and rage. There's something healing about tears. If Mildred's emotions are so accessible, if she can so easily go to tears, then why is she so filled with rage? Because if you can cry out the pain, you don't need to burn down the police station. So I was interested in her being locked out of her own humanity.
Um, is there any role this woman can't play to perfection? Congrats to Frances and the nominees.