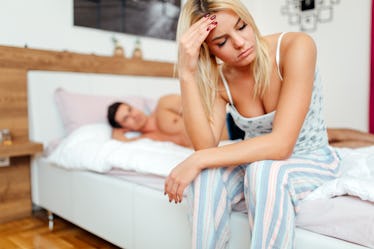 7 Women Reveal When Forgiving Their SOs Didn't Save The Relationship
Shutterstock
Functional relationships require several virtues: trust, patience, honesty, forgiveness. But forgiving your significant other isn't always the right move. Some things are just straight-up unforgivable. In a recent Reddit AskWomen thread, seven women got super honest about times they forgave their exes for transgressions, only to wind up splitting with them in the long run anyway.
Not all of these women necessarily regret their decision to forgive their exes. Just because it didn't work out in the end doesn't mean they were wrong to choose forgiveness. And if they did choose to dump their exes on the spot when things started going wrong, there wouldn't be anything wrong with that, either. Relationships and breakups are personal, complicated, nuanced, and not always linear. The point is that these choices aren't as cut and dry as you might think — the "right" decision for you might look very different from the "right" decision for another person in your shoes.
Regardless of your current relationship status, you can learn a lot from hearing other people's stories about their love lives. Below, these seven stories about forgiveness might change how you view that virtue in your own love life.