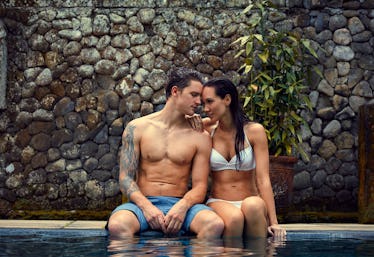 8 Women Share Their Rom-Com-Worthy Stories Of Finding Love After Giving Up On It
Being single can be weird. Some days you're determined to find love, some days you're convinced you'll never find it, and other days you have no idea what you want. Oddly enough, lots of people wind up finding love after giving up on it. And I'm not just talking about the plot of your favorite romantic comedies! I'm talking about real people living their real lives. Often times these humans wind up finding love just when they finally decide to throw in the towel and decide it's never going to happen for them.
In fact, in a recent Reddit AskWomen thread, a poster asked ladies to share times this phenomenon has actually happened to them. Specifically, the poster asked: "Women who met their SO after years of being single and almost giving up, what's your story?" And, oh baby, did these ladies deliver. Women responded with incredible, totally rom-com-worthy responses about the times they managed to find love, sometimes just a few short weeks after giving up on it altogether.
Love arrives in mysterious ways, but just remember — no matter how gloomy the circumstances may appear, always keep a glimmer of hope. There's a chance Cupid will come knocking at your door when you least expect it.