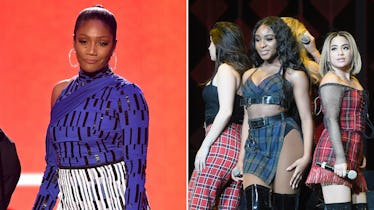 Fifth Harmony Clapped Back At Tiffany Haddish's VMAs Shade With A Powerful Message
Michael Loccisano & Paras Griffin/Getty Images Entertainment/Getty Images
Usually, Tiffany Haddish is my girl. I think most people feel that way, actually. So, it was surprising when she took a dig at Fifth Harmony as part of her roast speech at the 2018 VMAs. Sure, it was meant to be a joke and she probably wasn't serious, but I'm sure she felt the ripple effects of that diss from p*ssed off Fifth Harmony fans out there, anyway. In fact, the girls responded to the joke themselves. Fifth Harmony's responses to Tiffany Haddish shading them at the 2018 VMAs are mature, pure fire and fans are loving it.
Here's the drama set up: Haddish and her friend/cohort Kevin Hart took to the VMA stage to do what they do best — crack jokes and rag on their fellow celebrities. However, Haddish's directed commentary at Fifth Harmony felt a little less like a playful jab and more like... I don't know... low-hanging fruit? An easy insult? Haddish was busy applauding former Fifth Harmony member Camila Cabello for all of her nominations as a solo artist that evening (she was up for five awards and won two for Best Video and Best Artist) as a means to set up her burn. Haddish said, "[Camila Cabello] is nominated for five VMAs tonight. Five of 'em. I'm super proud of her. So those of you watching at home... Hi Fifth Harmony!"
Ouch.
There was an audible gasp from the crowd and even Cabello wasn't having it. The camera panned to her just as she shook her head. You can watch the burn at the 3:23 time stamp in the video below.
If Haddish's goal was to ruffle a few feathers, then she nailed it. Obviously, she caught Fifth Harmony's attention.
The following day, after taking a night to sleep on it, Fifth Harmony member Lauren Jauregui posted a thoughtful tweet that addressed the diss without calling Haddish out directly. She wrote:
Waiting for the day when supporting one successful dope woman does not mean insult to other successful dope women. There is energy and space for us all to beautifully coexist and bless the world with our individual truths, stories and talents.
Very cool, right?
In fact, other heavy hitters in the music industry rallied around the girls, too. When Nicki Minaj accepted the award for Best Hip-Hop later in the evening, she said straight into the microphone, "Tiff, don't be coming for Fifth Harmony, because Normani is that b—h." (Minaj and Haddish still hugged and danced together, so there's no beef there — but, message received.)
Normani jumped on Twitter to show her appreciation for Minaj's support and keep the positivity train a-rollin'. She posted:
@NICKIMINAJ I love you I love you I love you I love you I love you You perfect queen you! Thank you for lifting me up. God is real. Now y'all know I love me some Nickiiiiiiiiiiiiii. Congratulations on tonight!!! Proud of you always
Who doesn't love women supporting women?
Props to Fifth Harmony for staying above the noise. Maybe Haddish is somewhere taking notes on what to do next time she's given a microphone and platform.