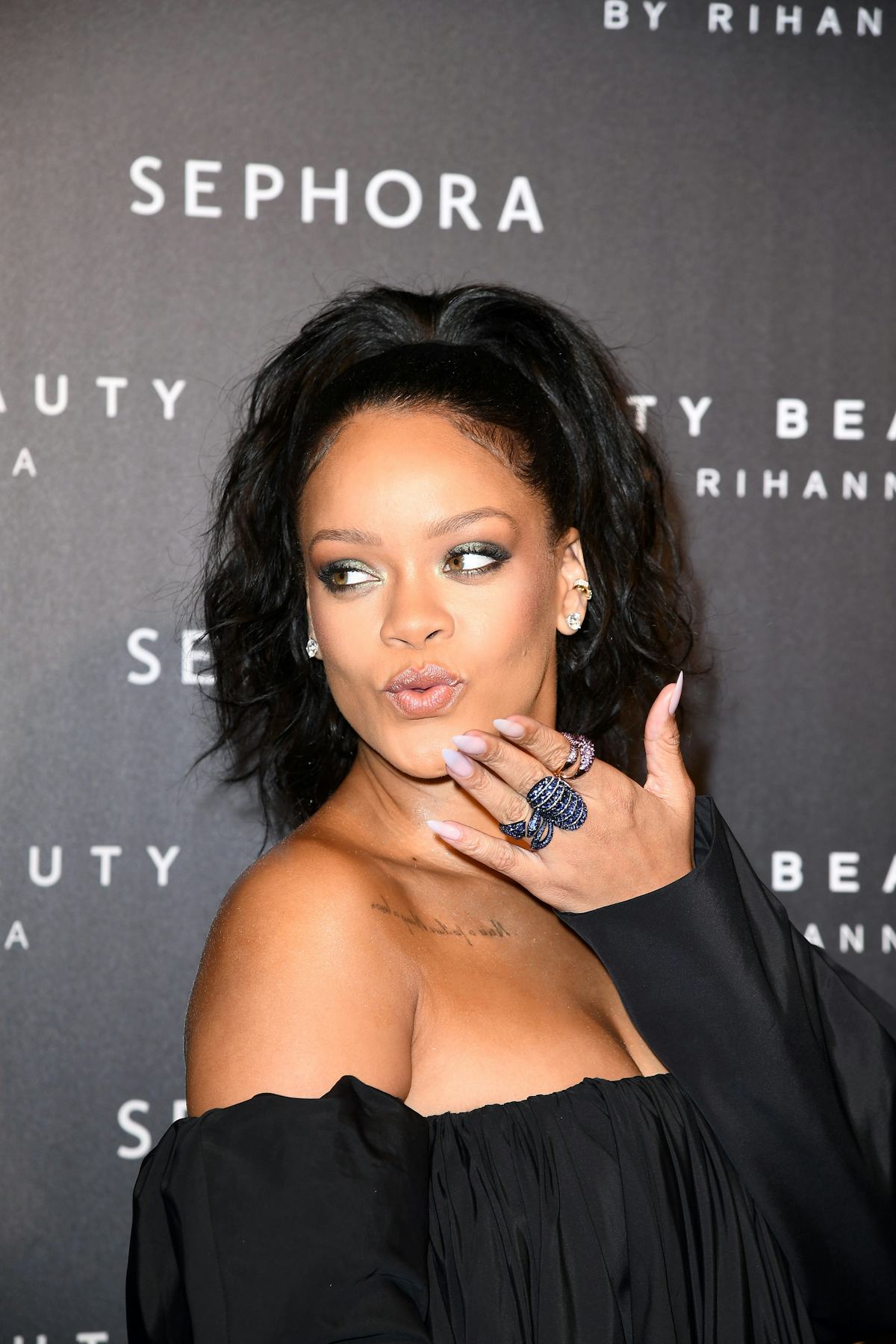 Fenty Beauty's Super Bowl Ad Is Taking Over Social Media & It Wasn't Even Televised
Pascal Le Segretain/Getty Images Entertainment/Getty Images
While America trudged into work Monday morning with Super Bowl hangovers and food comas, I was hunting deep on the interwebs in need of confirmation. Everyone was talking about Fenty Beauty's Super Bowl ad, which I didn't recall seeing, and I was totally shook. Was my card carrying membership going to be revoked for missing the Bajan Princess's big debut?
After some digging, I was able to take a mega chill pill when Twitter confirmed that Fenty Beauty didn't run an actual advertisement during the Super Bowl. Instead, the beauty brand released a video on all of its social media platforms, and with over 400,000 views on just the Fenty Beauty Instagram alone, it's looking like next year will mark Fenty's big game debut. Not only do we need a truly inclusive brand to shake up the Oscars of marketing, but it also seems like the Rihanna navy is starting a petition for #RihBowl2019.
Featuring upcoming artist Saweetie, entrepreneur and designer Sabrina Brasil, global social media manager Nanette Wong and social media team member Aja Jade, and @theebeepee, this video reminds me so much of Scary Movie's "Wassup" sequence.
If you have no clue what I'm talking about, please watch the movie in its entirety, because it's honestly one of the funniest movies of the '00s. For a bit of pop culture history though, the #wassup advert was actually popularized by Budweiser. They first debuted the ad in 1999 during Monday Night Football and it became a hit.
I don't want to give a ton away, because you have to watch the video, but basically instead of the girls saying "wassup" to one another, they're yelling "b*tch". The video is iconic and definitely a funny homage to the classic sequence. I'm not the only one that's obsessed. Just one day after the Super Bowl, while everyone is talking about the ads they loved (or found a bit problematic), social media is lighting up with Fenty Beauty praise.
Fenty Beauty Fans Stan For Their Princess
Saweetie's fans also came out in full force to support her.
In the video, Brasil is wearing Fenty Beauty Gloss Bomb Lip Luminizer ($18, sephora.com). Saweetie is applying a Fenty Beauty Killawatt Freestyle Highlighter ($34, sephora.com), which comes in six different color options. Jade finishes out the army of products by applying the oh-so-popular Fenty Beauty Stunna Lip Paint ($24, sephora.com) in Uncensored. Makeup artist Erik Soto killed each one of these natural -looking beats.
Think about it: for a 30 second ad during the Super Bowl, a company will drop at least $5 million dollars. That means Rihanna and the Fenty Beauty team are winning with their social media advertisement, and they accomplished what they needed. Not only is it receiving buzz on social media, just like the televised ads, but the fun, relatable, everyday women vibes make you actually want to check out the products.
It's also interesting to note that Rihanna's Fenty Beauty team is making serious moves for such a young brand. Fans are even stanning for the social media team because they're so interactive. I personally love how they feature such a diverse pool of women on their social pages.
I love Rihanna, but it's so major that the team chose not to use her as the only face for her brand, and that they're constantly switching it up. Although Rih is driving the ship, the inclusivity makes it feel like Fenty is the people's brand. It's also super dope that Rihanna and the team decided to feature up-and-coming artist Saweetie. I mean, even Tory Burch is a fan of Saweetie's developing music career.
In the meantime, b*tchhhhh (Rihanna) when is your next beauty launch? Fans are dying for more Fenty.