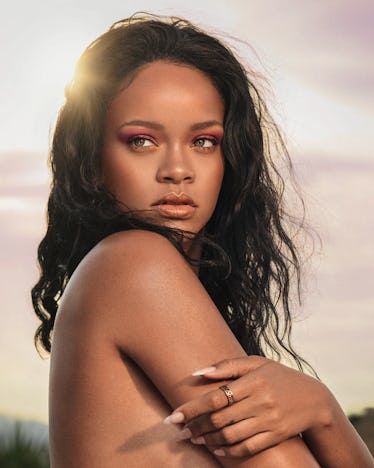 Fenty Beauty's Summer Makeup Is Almost Here & It Looks Like Sorbet, So Mark Your Calendar
Fenty Beauty
In my book, warm weather makeup should be all about the bright, the vibrant, the shimmery, and the glowy. Which is why Fenty Beauty's summer drop is basically the dream selection of products for those sun-soaked days when you want to seriously amp up your look. Boasting electric hues and blinding twinkle, the new collection is certainly for babes who like to go bold with their beauty looks.
Earlier this month, Vogue dropped a video of Rihanna, their June cover girl, giving a 10-minute going out makeup tutorial using Fenty Beauty products. Entitled "Rihanna's Makeup Guide to Love, Drama, Summer," the video shows you how to apply a beautiful face of makeup that's all kinds of glowy, shimmery, and...pink. Throughout the video, Riri uses fan-favorite products including Fenty's Pro Filt'r Soft Matte Longwear Foundation ($34, Fenty Beauty) and Match Stix Matte Skinsticks in Mocha ($25, Fenty Beauty). But when she gets to the part when it's time to apply eyeshadow, a new product is brought into the mix. It's a deep, uber shimmery pink and as we know now, it's part of the upcoming Fenty Beauty Beach! Please beauty drop. Teasing a new product in a Vogue video? Leave it to the queen.
The full details of the upcoming collection have just been announced and yes, it's as good as you'd hope. Dropping in full next week on May 21, it includes three illuminating highlighter duos, two liquid eye shimmer duos, and six iridescent and holographic liquid lipsticks. Your time to shine is definitely summer 2018. The collection will be available to shop in Sephora stores and online at Sephora.com and FentyBeauty.com, but to ensure you know exactly which products you want to cop (if not all), here's a bit more information on each.
Island Bling 2-In-1 Liquid Eye Shimmers, $26
Any product that's a 2-in-1 is something I want to have. These shimmer shadow sticks feature a metallic shimmer on one end and a glitter topcoat on the other, meaning if you want extreme glitz you can layer them together. Available in a gold and deep bronze duo and a pearl and peach duo, getting a natural looking sparkle has never been easier.
Summer Daze Iridescent Lip Luminizer Trio, $32
Talk about a pigmented pout! Available in three shades including robin's egg blue, bronzey-orange, and purple, these three shimmery glosses will turn any beauty look into a beauty lewk. I'd wear them for a cool music festival or a day of gallery hopping in a trendy beach town. Miami, anyone?
Summer Nights Iridescent Lip Luminizer Trio, $32
Gotta love a makeup collection that has specific lip shades for day and night! These three shimmery shades of gloss are meant for the darker hours. Featuring a gold-flecked pink, an aqua-flecked purple, and a green-flecked bronze, each hue has a cool holographic finish.
Kilawatt Foil Freestyle Highlighter Duos, $36
And now, for the star of the show! (In my opinion.) Bright shimmery duos that pack a whole lot of pigment-rich punch. Each shade can be used on your eyes, cheeks, collarbones, etcetera, depending on where you want to add a bit of sparkle and shine. As you've probably noticed, this is where the pink shadow that Rihanna used on her eyes in the Vogue video came from. The first duo includes a ballerina pink and saturated lilac ("7daywknd/Poolside"), the second includes a sherbet orange and rich pink ("Mimosa Sunrise/Sangria Sunset"), and the third includes a grayish silver and robin's egg blue ("Sand Castle/Mint'd Mojito" ). As their names suggest, they're perfect for island getaways and beachside nights.