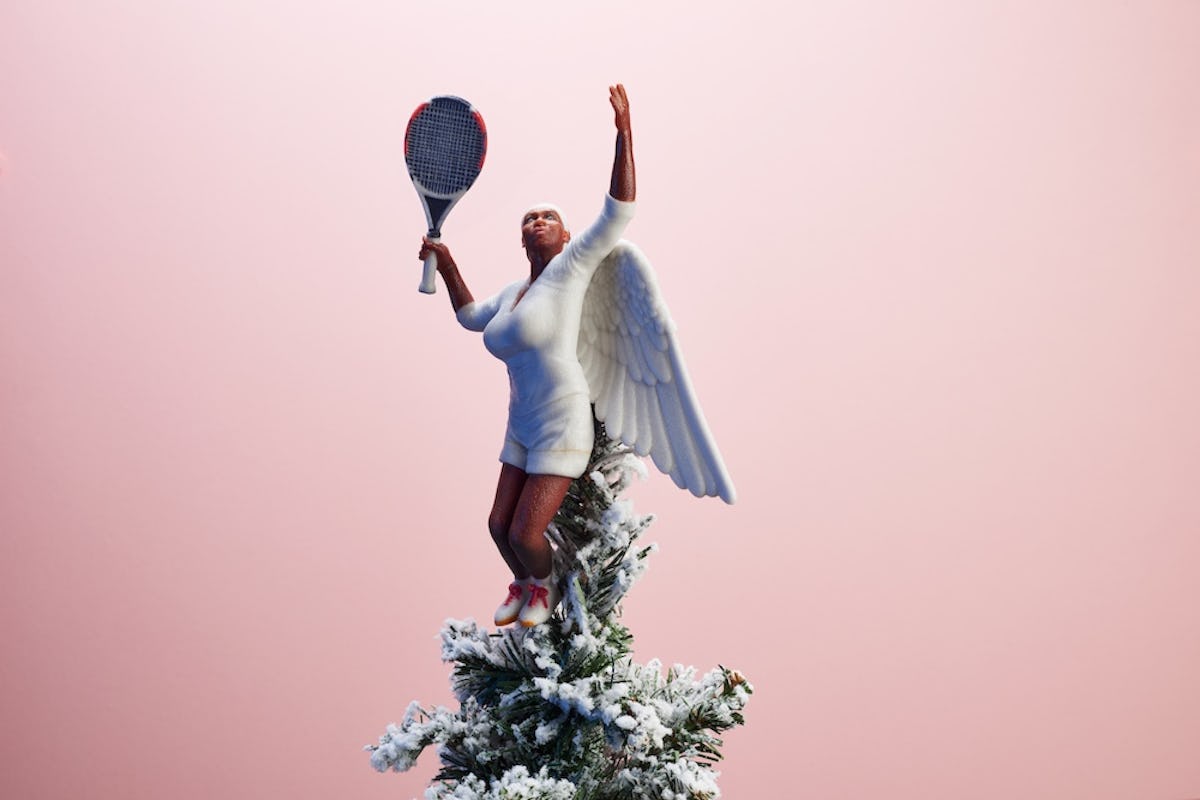 Give Your Christmas Tree A Fierce Female Touch With These Toppers
Women To Look Up To
How do you celebrate the most wonderful time of the year? With your favorite ladies, of course. Female Christmas tree toppers not only make the perfect accessory, but they support a powerful message as well.
Women To Look Up To (WTLUT), a UK-based nonprofit, decided it was time for the top of the Christmas tree to once again make a statement. Stars are a fine way to add the finishing touch to your holiday Douglas fir, but a female icon is most definitely the way to go for 2017. The idea came to Savannah Power, one of the organization's founders, while getting ready for the season in her own home.
"Last Christmas, whilst decorating the house, my sister Chelsea, her boyfriend [Dom], and I got chatting about the frumpy, old angel that barely hangs off the top of our annual Christmas tree," Power revealed on the Women Uncensored podcast. "We just felt uninspired by her, like she was a bit of a forgotten figure."
Obviously, a makeover was in order — this time, using IRL angels as inspiration. "With the help of Chelsea's boyfriend Dom and our incredible design team Duzi Studio all came together and thought, there's something in this, this can be a vehicle for change, to start a conversation," Power further stated.
With that in mind, three strong female figures — Hillary Clinton, Serena Williams, and Beyoncé — took on the form of a Christmas tree topper, and we are reaping all the benefits of this Christmas creativity.
Who wouldn't want one of these fierce angels to top their tree?
HRC is a must for the politicos in your life.
Queen Bey makes the perfect statement.
These figurines — which are about $94 in the United States — were selected by customers who voted for these figures. The profits earned go toward furthering female equality, according to the WTLUT site. "We essentially see this WTLUT as a place where we celebrate and commend revered and successful women, there are so many feminist outlets that are helping young girls get to where they need [and] want to go, but I think there is a gap for purely celebrating how far this movement, new wave 21st century feminism, has travelled," the founders said in a statement obtained by Elite Daily.
Not seeing your favorite figure on the site? You're in luck. The organization is looking to create a fourth wing-worthy angel, and you get to decide who it is. Options range from Michelle Obama and Ellen DeGeneres to Meryl Streep and Amal Clooney. WTLUT even gives site visitors the option to write in their own selection.
But it's not just about celebrating strong famous females — WTLUT is about celebrating all women.
The organization also will customize tree toppers for that important woman in your life: your mother, sister, friend, co-worker, whoever it might be. For those who are looking for other ways to celebrate the season, WTLUT also sells cards with inspiring messages such as "Women are made of more than plastic and glitter" and "It's time to shine." Some of the figures on the cards include Michelle Obama, Hillary Clinton, and Adele.
So if you're looking for a few last-minute ways to transform your house into a winter wonderland, you've found your answer. Your WTLUT décor will certainly be the talk of the town — and for good reason. "Celebrate the female achievement, celebrate those who have succeeded in the hopes of inspiring and motivating the next generation to do that same, allowing women to have a Woman/Women To Look Up To," the team said in a statement. Merry Christmas, indeed.
Check out the entire Gen Why series and other videos on Facebook and the Bustle app across Apple TV, Roku, and Amazon Fire TV.