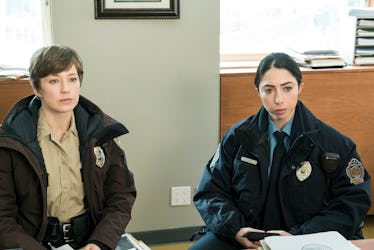 The New Season Of 'Fargo' May Not Be Back Until 2020, So Get Ready To Wait
FX
Nothing satisfies me more than a good crime anthology series, but I've been waiting so long for the official return of the FX series Fargo that it isn't even funny anymore. Although there was a bit of a longer gap than usual between the show's second and third seasons, the break was still manageable, but I'm not about this lengthy wait for Season 4. Despite previous reports that the new season could debut in 2019, Fargo Season 4's release date may not be until 2020. In the words of Fargo natives, eh?
Entertainment Weekly reports that Fargo executive producer Warren Littlefield has finally given some insight into the preparation of Season 4, saying:
We have a year, and we have a city [that season 4 takes place in]. The plan would be to go into production and start shooting in the fall of 2019. [Creator] Noah [Hawley] has a lot on his plate. Noah knows when it is and where it is, and he'll commence writing that after he shoots his feature with Fox Searchlight this summer. So in the fall, he'll begin writing and with Fargo we generally have most of the scripts written before we go into production.
Because filming will start so late in the year, there's a very slim chance that we'll see any of Season 4 before 2019 ends. Two previous seasons started airing in April, so we can keep our fingers crossed that history repeats itself and the same thing happens with Season 4 in 2020.
Now that we have some clarity about when to expect new episodes, the next matter of business is figuring out when in time the season will go. The first and third seasons were fairly contemporary, taking place in 2006 and 2010, but Season 2 took a vintage route, occurring in 1979. If we're to believe that a present-past-present pattern is in place, maybe Season 4 will take us into the '80s, '90s, or even '60s. I'm particularly invested in shows taking place in the long ago past, so I vote for a story set in the mid-20th century.
With the main cast of Fargo changing each year, fans also have to wonder what actors could potentially show up in the new season. The past few casts have been so eclectic and unpredictable that there's no use in trying to guess who's involved, but can Season 2 vets Kirsten Dunst and Jesse Plemons make a brief cameo with their new baby?
Speaking to The Hollywood Reporter in March, series creator Noah Hawley revealed that diving deeper into the history of the Midwest for Season 4 is important to him, saying:
More and more as I think about telling stories in this vein and what the original film is about, these are really American stories and stories about the American landscape, and the things that people do for money. I feel like I have a very interesting and exciting direction to go in. I'm trying to find the time to get it down on paper.
Hawley has also discussed the possibility of the show traveling back into the past again, telling THR:
On some level, there's a good joke in the idea that the more things change, the more they stay the same. I don't know if there's 10 episodes in that or not! But if you look at the history of the region and the waves of migration and people coming in, and the things people do for money … there's something interesting to making a period version of it.
It's clear that Season 4 of Fargo is still so far away that we aren't getting any super specific details soon, but we can dream. Whenever the series does return, I'll be ready for more Midwestern accents and suspenseful crime.