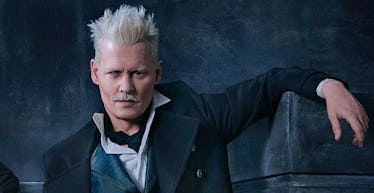 'Fantastic Beasts' Director Responds To Johnny Depp Controversy & Fans Aren't Having It
Warner Brothers
It's been almost two weeks since Warner Brothers made a splash with the first image from Fantastic Beasts 2: The Crimes of Grindelwald. While fans were excited to learn more about the upcoming sequel, there was one sore spot: the return of Johnny Depp as the titular Grindelwald. Now, team behind the movie is speaking out on the subject and the Fantastic Beasts 2 director is defending Johnny Depp.
In an interview with Entertainment Weekly, David Yates — who directed not only the final four Harry Potter films, but also the first Fantastic Beasts movie and now the sequel — said that he thinks the fan backlash against Depp is overblown.
Even before there was any sort of scandal, Johnny Depp's fortunes had been plummeting, with some calling him "box office poison" in 2015 after he had five movies bomb in a row. That was before his wife, Amber Heard, filed for divorce in 2016 after 15 months of marriage. As part of her complaint, she accused Depp of domestic violence and abuse. The Guardian reported the following about the accusations:
On Saturday evening, according to a statement from Heard filed on Friday in support of the restraining order, Depp 'began obsessing over something that wasn't true' and 'became extremely angry,' eventually throwing a cellphone at Heard, striking her cheek and eye 'with extreme force.' Heard said that Depp "continued screaming at me, pulling my hair, striking me and violently grabbing my face".
Depp denied the allegations and his lawyers released the following statement:
Amber is attempting to secure a premature financial resolution by alleging abuse... Depp is unable to attend the hearing on this matter and has not heard Amber's specific allegations against him.
As the case went on, Depp accused Heard of continuing her claims for attention. When the case was finally settled in August, Heard and Depp released a mutual statement that called their relationship "volatile" and went on to say, "There was never an intent of physical or emotional harm. Neither party has made false accusations for financial gains."
Yates told EW that he finds Depp to be a wonderful person to work with. He said,
Honestly, there's an issue at the moment where there's a lot of people being accused of things, they're being accused by multiple victims, and it's compelling and frightening. With Johnny, it seems to me there was one person who took a pop at him and claimed something. I can only tell you about the man I see every day: He's full of decency and kindness, and that's all I see. Whatever accusation was out there doesn't tally with the kind of human being I've been working with.
Yates also cited two of Depp's ex-wives who claimed that they never experienced any abuse.
It's very different [than cases] where there are multiple accusers over many years that need to be examined and we need to reflect on our industry that allows that to roll on year in and year out. Johnny isn't in that category in any shape or form. So to me, it doesn't bear any more analysis. It's a dead issue.
Perhaps Yates meant well by his statement. But unfortunately, it comes across as the old boy's club once again coming to the defense of one of their own.
Many fans clearly feel this way and took to Twitter to express their disappointment.
In fact, some immediately pointed out how Yates' language in the article reframed the relationship so that Heard sounded like an abuser.
Some brought forth more information, including articles where Depp's employees claimed that they knew he was abusive towards Heard.
Others say that citing Depp's previous ex-wives' thoughts on the issue wasn't the point. The settlement statement that Depp and Heard released when their divorce was finalized clearly stated that Heard wasn't lying about the events that lead to their split: "There was never an intent of physical or emotional harm. Neither party has made false accusations for financial gains."
Others boiled it down further:
Part of the reason fans continue to be so vocal about this is due to J.K. Rowling, the author of the Harry Potter series and Fantastic Beasts' screenwriter. Rowling has always been vocal about believing women, and a champion of feminism, and has worked to end domestic violence. And yet, she said she was "delighted" by Depp's casting at the first film's premiere, going on to say, "he's done incredible things with that character."
Considering the accusations against Depp, many fans are incredibly disappointed to see his continued presence in the films, especially in a climate where some who have been accused of harassment and abuse are being fired, and in one case, erased from the movie they had already filmed.
If Yates thinks he's put this "dead issue" to bed, I'm afraid he's mistaken. If anything, all he's done is given the story new life.