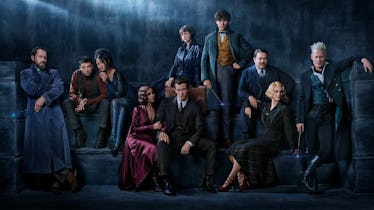 The 'Fantastic Beasts' Producer Reveals Details About The Sequel & We're Freaking Out
Warner Brothers
The end of last week saw the one year mark until the next installment in the Harry Potter prequel movie series, with the unwieldy title of Fantastic Beasts and Where to Find Them. While some fans were overjoyed to return to the wizarding world, most critics were underwhelmed. But there was a feeling that one couldn't judge the film until the next one arrived. For those who worry that the second installment also won't wow, don't worry. The producers have given us new Fantastic Beasts: Crimes Of Grindelwald details, and they promise this newest film will not disappoint.
The first Fantastic Beasts film was underwhelming partly because it was something of a bait and switch. Fans went in expecting a story about Newt Scamander in the 1920s, and walked out realizing that instead this series would actually be a lead up to the showdown between Dumbledore and Grindelwald in 1945. But now that the story has been established for what it is (and how many sequels there will be) executive producer David Heyman, who has been with both of Rowling's movie series since the beginning, told Entertainment Weekly that everyone was very optimistic.
We delve deeper into Jo's wizarding world — we're in Paris, we're in London and New York — the world is expanding. As you can tell from the image, we're following quite a few characters. The new film has a very different feel than the first. It's got a thriller quality. And it's also a story about love and passion and all its forms — paternal, romantic, political. And it's just a thrilling and very fun adventure. We took all we've learned from one and just expanded that and created a richer, deeper and more thrilling film which I'm excited to be a part of.
One of the reasons they're also excited is the introduction of Jude Law as "Young Dumbledore." The older incarnation of the great wizard was a character fans were very fond of in the original series. The production is hopeful that Law's performance will also win them over in the same way.
Even though, they acknowledge, Dumbledore was a much different man when he was younger.
One of the reasons we chose Jude is he has many of the qualities we find in Dumbeldore in the Potter films. He's got authority, he's got a twinkle in his eye, he's sometimes a bit elliptical. So you have that but also have this youthful energy and jubilance. So he brings that twinkle, mischief, authority, and power, but at the same time brings far more youthful energy to the film. You understand why he would be your favorite teacher and be someone you believe is an extraordinary wizard.
One thing the production has not yet addressed, though, is the inclusion of Johnny Depp as the titular Grindelwald. Depp's casting was controversial in the first movie as a Grindelwald cameo. Depp was at the time already thought of as "box office poison" for his more recent roles. Moreover, that J.K. Rowling, who is an advocate for women, and has been vocal about her disapproval of violence against women would allow the casting of an actor who was alleged to have beaten his ex-wife, Amber Heard, distressed fans greatly.
Fast forward to 2017, and actors are now losing roles left and right for sexual harassment and abuse claims. (Including the extreme step of erasing Kevin Spacey from the forthcoming All The Money In The World, which will be reshot with less than a month to release with Christopher Plummer in the role.) So why isn't Rowling pushing for Depp to be recast?
Perhaps the producers will address that don't the road. But until they do, there's more shadows than they admit hanging over the forthcoming film.