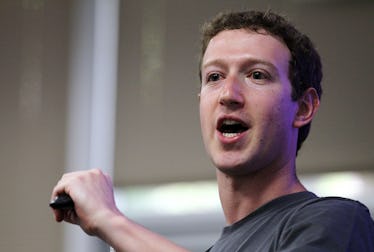 Facebook Just Launched A Dating Service & It's So Different From Your Usual Apps
Justin Sullivan/Getty Images News/Getty Images
Maybe it's because I literally work in the field of sex and dating, but I really feel like we live in a day and age in which I hear about new dating apps on a daily basis. From ultra-popular Tinder to all of the many niche dating apps that cater to more specific communities, there are plenty of ways to date online these days. And now, Facebook's new dating feature is here to give them one more option.
The feature was announced today at the company's annual F8 developer's conference in San Jose and, let me tell you, it's actually pretty different from the typical dating app experience you might be used to.
How is it different? Well, for starters, Chris Cox (Facebook's Chief Product Officer) explains that the brand's goal in building this was to create a dating service on Facebook in a way that "was opt-in, in a way that was safe, a way that took advantage of the unique properties of the platform and didn't get in the way of everybody who wasn't interested in dating." TBH, I think Facebook was able to do just that.
First, let's talk about how it's opt-in. Basically, you don't have to use Facebook's dating service unless you want to use it. In the presentation, Cox gives the example of a woman named Jennifer. "This is Jennifer. She's just moved to Chicago," he explains. "She's interested in dating. She likes running and college football. This is her Facebook profile."
If Jennifer wants to pursue her interest in dating, all she has to do is click on that heart on the upper right hand side of her profile. This takes her to what's called the "dating home" where she's able to create her own dating profile. It's important to note that the dating profile is not visible to friends and doesn't go on your newsfeed, so you don't have to worry about any awkward encounters with uncles or exes you might be connected with on FB. It also only shows your first name to ensure privacy.
Once you've created a dating profile, it's time to start, well, you know, dating. Facebook approaches dating a little differently than most apps do: The feature gives users the option to browse through events and groups they might be interested in. "We like this, by the way, because it mirrors the way people actually date which is usually at events and in institutions that they're connected through," notes Cox.
If you're scrolling through events and see one that piques your interest, you have the option of unlocking it. What does unlocking it mean, you ask?! Unlocking the event gives you the chance to share your dating profile with other people who are going to the event, are also using the dating service, and have also unlocked it. Once you've done this, you can browse through these people.
If you see someone you like on the guest list, you have the chance to start a conversation on a photo from the person's profile. Cox explains that Facebook incorporates the pictures as conversation starters in hopes of creating "more meaningful" interactions.
If the person you reached out to wants to respond, they have the chance to do so in a private messaging inbox (not unlike the ones you've seen on your other dating apps) connected to your dating profile. This is separate from your Messenger and Whatsapp inboxes and it is text-only as a safety measure. A nice, clean dick pic-free inbox?! PINCH ME.
Here's what people are saying about the new feature .
One person noted that the feature might be unavailable to people in relationships — which means it's not ideal for people who have open relationships.
(Elite Daily reached out to Facebook to inquire about how they'll accommodate users who are not currently single. A spokesperson denied that the feature will be unavailable to those who are married or in a relationship.)
Some people just think it's totally unnecessary.
Given Facebook's track record on privacy issues, not everyone is thrilled.
But, hey, maybe the fact that they know literally everything about us *isn't* such a bad thing...?
Despite all of the concerns, Facebook is already shaking things up with the competition.
This might be what Facebook was meant to be all along.
Clearly, there are lots of things to take into consideration here. But the silver lining? If Facebook dating isn't for you, there are still about a million and one other dating apps for you to turn to.
Check out the entire first day of the F8 conference below:
Check out the "Best of Elite Daily" stream in the Bustle App for more stories just like this!
This article was originally published on