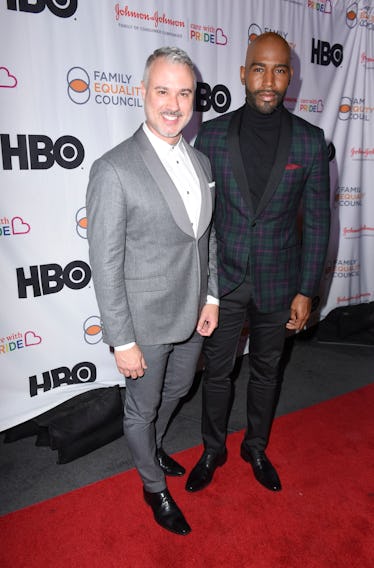 Here's Everything Karamo Brown Has Said About His Fiance Ian Jordan, So Grab A Tissue
Vivien Killilea/Getty Images Entertainment/Getty Images
If you haven't seen Queer Eye, the best show to hit Netflix since Stranger Things, then you need to stop what you're doing, tell your boss you're sick, and go binge-watch it immediately. OK, caught up? Good. Because one of the stars of the show is engaged, and everything Karamo Brown has said about Ian Jordan, his fiancé, will make you realize that love is real, and also, OMG, their romance is the stuff of legends.
Fans of Queer Eye will know Brown as the show's "culture" expert. You know, the one who comes in and has super deep conversations with the contestants about what's really going on in their lives. For instance, in one episode of season two, Brown took Skyler, a trans man who had recently undergone top surgery, to officially change the gender marker on his driver's license. It was a huge deal, and Brown was totally there for him, just like he's been there for all the contestants who've overcome the things that were holding them back from living their best lives.
When Brown proposed to his boyfriend of eight years, Ian Jordan, on May 9, everyone was seriously thrilled for them. Brown does so much good for so many people, that it's nice to see him happy with the person he loves. He deserves it! If you're not already crying, here's everything Brown has said about Jordan. Grab a tissue.