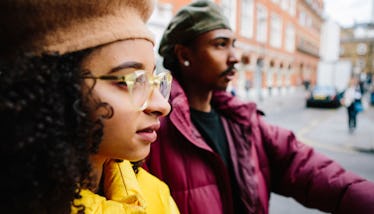 9 People Who Have Been 'The Other Person' Reveal What That Was Like, & It's Complicated
Have you ever dated someone who was already in another relationship? Or fantasized about what it's like to be the other person to someone who already had a partner? While I think we can agree that cheating is not cool (unless of course you're down with compersion or your kink is cuckolding — and no shame if it is, we're sex positive around these parts), for some there is an appeal to being someone's secret plus-one. It's taboo, it's naughty, and that risk-taking can be a huge turn on.
However, it's one thing to imagine what being a side piece is like and another to actually have had the experience. Is it really as hot as it's cracked up to be? Or is it just a recipe for future heartbreak? If you want to know what the experience is really like, short of having an affair yourself, you'll need to hear the first-hand stories of people who have gone through it before — those who have been (or are still currently) in relationships with people who are already taken. Fortunately, there is no shortage of folks who are eager to share their stories of being the "other person" on Reddit. Here's what they say it's like.