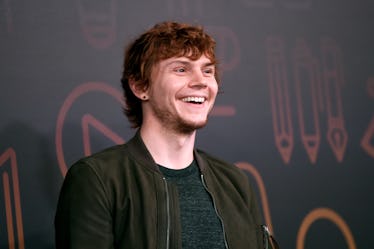 Evan Peters Is Reprising His Iconic 'Murder House' Role For 'AHS: Apocalypse'
Emma McIntyre/Getty Images Entertainment/Getty Images
American Horror Story's big crossover season begins next month on FX. This year's season is entitled Apocalypse, and it is a mix of two earlier, seemingly unconnected horror tales from early on in the show's eight-season run, Season 1's AHS: Murder House and Season 3's AHS: Coven. But while some actors who are returning were only in Season 1 or Season 3, many of the leading actors were in both, making it a mystery which role they'd be reprising. Now, fans have at least one answer. Evan Peters will play Tate in AHS: Apocalypse, bringing back his character from Season 1.
Peters is one of Ryan Murphy's stable of actors which he draws from on the regular. Peters has been doing Murphy shows since 2011, when American Horror Story first premiered with him in the role of Tate Langdon. Since then, Peters has played a role in every single season of AHS, including Coven, where he played Kyle Spencer.
Ryan Murphy revealed which character Peters would be playing on his Instagram this week. One thing a return to Tate's character means for Peters: a return to the blonde 1990s grunge era mop of hair, as can be seen in the picture below.
Check it out.
The caption reads:
Tate. Happy to be home.
Fans who have stuck with the series since it first debuted eight years ago will remember Tate, but for those who joined in the obsession later down the line, Murder House focused on the Harmon family: Ben (Dylan McDermott), his wife Vivien (Connie Britton), and their teenage daughter Violet (Taissa Farmiga). The Langdon family lived next door, featuring Constance (Jessica Lange) and her daughter, Adelaide (Jamie Brewer). Tate was Adelaide's brother, a 17-year-old psychiatric patient when viewers last met him.
Oh, also he was dead.
His ghost had been residing at his mother's house ever since he was killed by a SWAT team after committing mass murder at his high school back in 1994. This is why he was still into grunge, and as is evident from the picture above, still is.
Dylan McDermott and Connie Britton are returning this season to reprise their roles as the now-deceased Harmon parents, and Jessica Lange will reprise her role as Tate's mother, Constance. Jamie Brewer is not returning as Adelaide Langdon — at least, if she is, it hasn't been announced. Taissa Farmiga will also not be reprising the now-deceased Violet either, despite her being Tate's undying obsession.
Farmiga is back, but she's playing her Season 3 character, Zoe Benson. Zoe was paired with Peters in a relationship, but there he played Kyle Spencer. They both died in that season as well, but since it was all about witches, they were quickly resurrected from their unfortunate incidents.
Peters has played a ghost, or some version of a ghost character, in five out of the eight seasons he's been doing the show. Not only was he a ghost in Murder House and now Apocalypse, and a temporarily dead spirit in Coven, but he also played a different ghost in Season 5's AHS: Hotel and an actor who portrays a ghost in Season 6's AHS: Roanoke.
American Horror Story: Apocalypse returns to FX on Sept. 12, 2018.