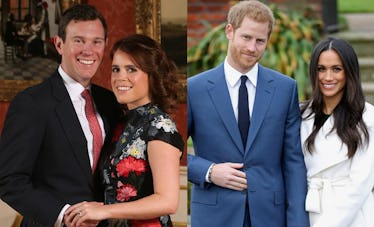 Eugenie & Jack's Thank You Cards Were More Personal Than Meghan & Harry's For This Reason
WPA Pool/Getty Images Entertainment/Getty Images | Chris Jackson/Getty Images Entertainment/Getty Images
Princess Eugenie married Jack Brooksbank just three weeks ago in a ceremony that many compared to that of Prince Harry and Duchess Meghan's. Both couples were married at St George's Chapel at Windsor Castle, had a procession, and waved at onlookers who were invited to take part in the special day. And now the two couples are being compared to each other yet again. So, what's the comparison or battle, if you will, at hand this time? Basically, it's this: Eugenie and Jack's thank you cards versus Meghan and Harry's. Yup! Eugenie and Jack pretty much one-upped Harry and Meghan with their thank you cards because they gave them a unique and personal touch!
Princess Eugenie and her new hubby decided to include handwritten notes in their thank you cards as well as a joint monogram, which are two things Harry and Meghan didn't do when they sent theirs out. So, what did Eugenie and Jack's thank you cards say? Their message was simple and heartfelt:
Thank you from the bottom of our hearts for making our wedding so special and for thinking of us as we start our married life. We are completely overwhelmed with happiness.
You can check out Eugenie and Jack's thank you note down below:
In comparison, the Duke and Duchess of Sussex opted for a slightly less personal version of a thank you note. Theirs was typed, didn't include a monogram, and read:
The Duke and Duchess of Sussex have been overwhelmed by all the incredibly kind cards and letters they have received on the occasion of their Wedding, and are so touched that you took the trouble to write as you did. It really was most thoughtful of you and greatly appreciated by Their Royal Highnesses who send you their very best wishes.
If you haven't seen Harry and Meghan's thank you card, here it is:
When you look at the thank you cards side by side, there's definitely a huge difference between the two. While Princess Eugenie and Brooksbank's cards could be viewed as more personal, remember, Harry and Meghan are one of the royal family's most popular couples. Just imagine the sheer amount of thank you cards they must've had to send out. While Eugenie and Brooksbank are also hip among fans of the royal family, they're not quite as well known, so that may have been a factor in how they decided to handle thank you cards for their wedding.
Additionally, Harry and Meghan are much more closely tied to the central royal family than Eugenie is, so it makes sense that they'd be a little less personal than Eugenie and Brooksbank. Could it have something to do with royal protocol? Perhaps. Are these thank you cards just a way for them to show they're completely different couples? Maybe. Whatever their reasons were, it's clear that both couples chose what felt right for them.
In the end, though, both couples did a lovely job in letting people know how thankful they were for all the well wishes from the public!