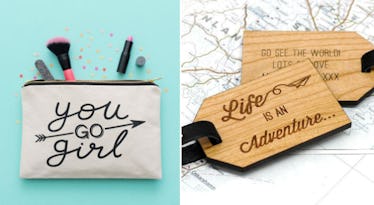 Etsy's Best Gifts For 2019 Graduates Really Personalize Your Congratulations
Graduation is a time filled with congratulations and celebrations. Whether you're saying farewell to high school or taking that big step into adulthood from college, graduates deserve all the praise coming their way. What better way to show the grads in your life just how excited you are than with Etsy's best gifts for grads 2019?
For such a monumental moment, you want to gift something incredibly special. You could go for a cute card or teddy bear wearing a cap and gown, but if you want something unique, Etsy has you covered. It's the perfect spot to find gifts for everyone you love. Not only are a lot of the gifts on Etsy handmade, but you can also get them personalized for whomever you're celebrating. That's why Etsy's top picks for grads this year are giving me major shopping inspiration.
Etsy's unique gifts are exactly the kind of attention the grad in your life deserves. They've worked hard these past few years, and have spent many long nights studying in the library. Other than being handed that degree, you can hand them any of these six items that celebrate their hard work.
If you're the one who's graduating, you might want to add any of these to your wish list for friends and family, or even treat yourself. Either way, I want to say con-grad-ulations, and party on.