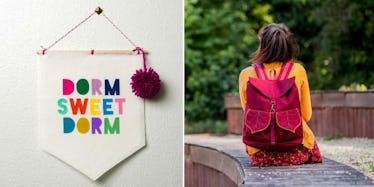 Etsy's Top Back-To-School Essentials For 2019 Should Be In Your Shopping Cart RN
It's that time of the year to switch gears from vacation mode to back-to-school mode. It's always a struggle reuniting with your alarm clock once classes start up again, but it's also fun having an excuse to go shopping for supplies and new clothes. If you're feelin' in the mood to shop, Etsy's 2019 back-to-school items are officially here, and you'll want to add everything to your cart ASAP.
Growing up, I can't tell you how much I loved getting a school supply list from my teachers each year. (I know I'm not alone on this one.) It was always a fun time picking out vibrant folders, cute notebooks, and a new backpack that perfectly represented my personality. Think of Etsy's top back-to-school picks for 2019 as your very own school supply list.
Whether it's your senior year of high school, or your freshman year of college, there's something on this list for you. Also, Etsy is the place to go for personalization. So many of their items are customizable, which makes it super easy to pick out items unique to you.
If you're like me and love embracing fall and a new school year with a fresh start, you'll have fun finding things that perfectly match your back-to-school vibes.