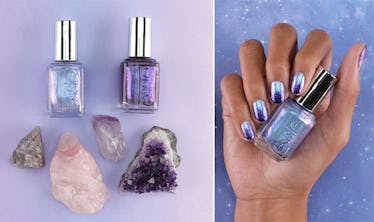 Essie's New "Mercury In Retrograde" Nail Polish Will Get You Through The Next 3 Weeks
essie on Instagram
In case you've been living under a rock (or radiation-proof bunker), you know Mercury's retrograde is one big celestial-imposed assault on your personal life. Three times per year, Mercury, the ruler of communication, travel, technology and intellectual thoughts changes orbit for about three weeks. When this happens, everything feels like one big never-ending brain bang. Nothing good comes from Mercury's retrograde, except one thing: Essie's Mercury In Retrograde — a duo of stellar shades inspired by the cosmos.
I have a deep-rooted loathing for retrograde, particularly Mercury's. Every planet goes into retrograde from time to time, but Mercury's cycle is the most frequent and most well-known — when's the last time you freaked out over Pluto's retrograde? It's that of Mercury that has me walking on eggshells multiple times per year. During these periods, the way you communicate with people is especially risky. I've literally had the silliest misunderstandings with people, including the time I got upset at my husband for not getting my food order correct. I've even lost a car to Mercury's retrograde (transportation and technology problems are so common during this time). This has never personally happened to me, but old relationships — like exes or old friends — are likely to pop up as a result of Mercury retrograde's apparent reverse motion. It basically just reverses time in a way that brings the past to the present.
This time around, Mercury's retrograde begins on July 26 and lasts through August 19. That's almost three whole weeks of emotional drama, failing technology, and weird blasts from the past. If you need something to get you through the chaos, there's nothing like a shimmery manicure to bring you back to earth when things get really real.
Infused with celestial pearl particles, Essie's new Mercury in Retrograde collection is currently on sale for $9 on Ulta's website and Ulta Beauty stores nationwide. The collection consists of two shades: "Keep Calm...," and the other cleverly named "...& Mercury On." If that's not a reminder to push through and come out on top, I don't know what is.
"Keep Calm...," is a heavenly iridescent sky blue shade with a silvery finish, packed with flakes of lavender throughout. I had a nail polish color like this in the '90s and I've been waiting for someone to recreate the frosty shade I loved so much as a kid. Success!
"...& Mercury On," a deep shade royal purple shimmer with hints of blue highlights reminiscent of the deepest depths of the galaxy. In some lighting, the shade almost looks black, and at certain angles, the color comes off almost silver. This rich purple nail polish is the perfect color for when you're feeling witchy, but you can't really commit to wearing just black.
If you can't choose just one, create a gorgeous ombre using both nail polish shades. This way, every time you're feeling Mercury is getting the best of you, just look down at your manicure for a subtle reminder that there's beauty in everything (even all the crazy sh*t that's happening around you right now).